Arizona State Sun Devils
Overall Rank: #24
Conference Rank: #5 Pac-12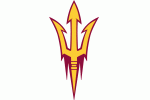 Arizona State has been one of the most consistent programs in the Pac-12 as they have won at least 20 games and gone to the NCAA Tournament for five straight seasons. Head Coach Charli Turner-Thorne has developed a culture of defensive toughness and created a tough homecourt advantage that have become two key staples of their ability to consistently win. A veteran team returns this season as four starters are back and they are primed to challenge the likes of Oregon, Stanford, and Oregon State this season.
2017-18 Record: 22-13, 10-8
2017-18 Postseason: NCAA
Coach: Charli Turner Thorne
Coach Record: 422-246 at Arizona State, 462-286 overall
Key Departed Players (starters in bold)
Sabrina Haines, Guard, 10.2 ppg
Key Returning Players (starters in bold)
Kianna Ibis, Senior, Forward, 12.9 ppg
Robbi Ryan, Junior, Guard, 10.2 ppg
Courtney Ekmark, Redshirt Senior, Guard/Forward, 9.7 ppg
Charnea Johnson-Chapman, Senior, Center, 6.7 ppg
Reili Richardson, Junior, Guard, 5.7 ppg
Jamie Ruden, Junior, Forward, 8.6 ppg
Sophia Elenga, Senior, Forward, 5.7 ppg
Kiara Russell, Junior, Guard, 4.9 ppg
Eva Rubin, Sophomore, Center, 2.3 ppg
Bre'Yanna Sanders, Sophomore, Guard/Forward, 0.8 ppg
Key New Players
Taya Hanson, Freshman, Guard
Jamie Loera, Freshman, Guard
Iris Mbulito, Freshman, Guard/Forward
Jayde Van Hyfte, Freshman, Forward
Projection:
Senior Forward Kianna Ibis is the leading returning scorer for Arizona State as Ibis averaged 12.9 points per game and hit just under 50 percent of her shots from the floor. Robbi Ryan is the other returning double-figure scorer from last season. Ryan averaged 10.2 points per game and is a pretty good shooter as well. Courtney Ekmark is another key experienced player as a versatile guard/forward who can knock down the outside shot and, like Ryan, can cause havoc defensively. Reili Richardson is a quality point guard who had nearly a 4 to1 assist to turnover ratio last season and helped the Sun Devils have less than 12 turnovers per game. In addition, there is a very talented incoming freshmen class led by Taya Hanson who should be able to infuse an instant offensive punch into the lineup. The schedule is always challenging. Games against Louisville and Kansas State in the non-conference portion will be great tests for Arizona State. Five of the first seven conference games will be on the road, including a road trip to the Oregon schools so that will be treacherous for Arizona State. Overall, the Sun Devils should win 20 games for the sixth straight season and get back to the NCAA Tournament with a chance to get to the Sweet 16.
Projected Postseason Tournament:
NCAA
By the Numbers:
Scoring Offense: 67.8 (112th in nation, 8th in conference)
Scoring Defense: 57.8 (39, 1)
Field-Goal Percentage: 44.1 (41, 4)
Field-Goal Defense: 42.0 (280, 10)
Three-Point Field Goals Per Game: 4.7 (267,12)
Three-Point Field-Goal Percentage: 32.9 (122, 7)
Free-Throw Percentage: 71.3 (133, 6)
Rebound Margin: 6.5 (35, 1)
Assists Per Game: 15.8 (46, 4)
Turnovers Per Game: 11.7 (12, 1)
Madness 2018 Women's Basketball Recruit Rankings:
#122 Taya Hanson