Purdue Boilermakers
2018-2019 Overall Rank: #30
Conference Rank: #5 Big Ten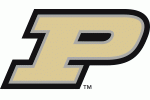 Purdue reached the NCAA Tournament for the tenth time under Coach Matt Painter last season. But once again the Boilermakers failed to make it past the Sweet Sixteen. This time it was partly due to an injury to Isaac Haas suffered earlier in the tournament. But now Haas and three other starters are gone. Haas, Vincent Edwards and Dakota Mathias all averaged at least a dozen points per game and now there is some reloading to be done. But the starter back is All-American Carsen Edwards and that is a great place to start. The junior guard led the Boilermakers with 18.5 points per game last year and connected on 40.6 percent of his 239 attempts from beyond the arc. With Edwards taking the big shots, Purdue will have some time to get their new playmakers acclimated to life in the Big Ten.
2017-18 Record: 30-7, 15-3
2017-18 Postseason: NCAA
Coach: Matt Painter
Coach Record: 295-149 at Purdue, 320-154 overall
Key Departed Players:
Isaac Haas, Center, 14.7 ppg
Vincent Edwards, Forward, 14.6 ppg
Dakota Mathias, Guard, 12.0 ppg
P.J. Thompson, Guard, 7.5 ppg
Key Returning Players:
Carsen Edwards, Junior, Guard, 18.5 ppg
Matt Haarms, Sophomore, Center, 4.8 ppg
Ryan Cline, Senior, Guard, 4.0 ppg
Nojel Eastern, Sophomore, Guard, 2.9 ppg
Grady Eifert, Senior, Forward, 1.6 ppg
Key New Players:
Evan Boudreaux, Junior, Forward, Grad Transfer from Dartmouth
Emmanuel Dowuona, Freshman, Center
Eric Hunter Jr, Freshman, Guard
Kyle King, Freshman, Forward
Sasha Stefanovic, RS Freshman, Guard
Aaron Wheeler, RS Freshman, Forward
Trevion Williams, Freshman, Forward
Projection:
Nojel Eastern will be the new point guard after serving as a backup during his freshman campaign. He has amazing vision and should be ready to turn into a leader of the team. Senior Ryan Cline could see a dramatic boost in his production. Edwards is a prolific shooter, but the rest of the shooting options are gone; except for Cline. He hit 40 long balls last season at a 39.6 percent clip. If he can keep that up, this will again be one of the most prolific and efficient outside shooting teams in the country. Eric Hunter will make an immediate impact as a freshman and redshirt freshman Sasha Stefanovic could see quality minutes too if his shot is falling. The frontcourt has its new seven-footer in Matt Haarms. As a freshman last season the 7-3 Amsterdam native averaged 4.8 points, 3.2 rebounds and 2.1 blocks. His defensive intensity will continue, but now Haarms will be asked to pick up more of the scoring slack. Grady Eifert is an experienced senior who can eat up some minutes, but most of the rest of the frontcourt production will come from the newcomers. Evan Boudreaux comes to Purdue from Dartmouth where he earned All-Ivy accolades as a freshman and sophomore. Two years ago he easily led the Big Green with 17.5 points and 9.5 rebounds. Aaron Wheeler, Trevion Williams and Emmanuel Dowuona are all talented freshmen who are expected to add depth and options for Coach Matt Painter. There are questions to answer of course, but if everything works out as planned, this could be a Purdue team that is nearly as good as they were a year ago.
Projected Postseason Tournament:
NCAA
By the Numbers:
Scoring Offense: 80.4 (42nd in nation, 1st in conference)
Scoring Defense: 65.7 (24, 4)
Field-Goal Percentage: 49.3 (11, 2)
Field-Goal Defense: 41.3 (37, 3)
Three-Point Field Goals Per Game: 9.5 (33, 1)
Three-Point Field-Goal Percentage: 42.0 (2, 1)
Free-Throw Percentage: 74.3 (65, 4)
Rebound Margin: 2.6 (89, 6)
Assists Per Game: 16.2 (27, 3)
Turnovers Per Game: 10.8 (21, 3)
Madness 2019 NBA Draft Rankings:
#24 Carsen Edwards

Madness 2018 Men's Basketball Recruit Rankings:
#131 Eric Hunter

#141 Emmanuel Dowuona

#152 Trevion Williams