Loyola Chicago Ramblers
2018-2019 Overall Rank: #52
Conference Rank: #1 Missouri Valley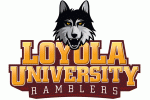 Loyola is riding high after their amazing NCAA Tournament run to the Final Four. The Ramblers memorably knocked off Miami, Tennessee, Nevada and Kansas State on their way to the Final Four. Coach Porter Moser and company garnered plenty of attention on their magical run and will now look to continue their success. With three starters returning, Loyola is the favorite to win the Missouri Valley Conference. And this group knows how to win once they get to the tournament.
2017-18 Record: 32-6, 15-3
2017-18 Postseason: NCAA
Coach: Porter Moser
Coach Record: 121-111 at Loyola, 226-212 overall
Key Departed Players:
Donte Ingram, Guard/Forward, 11.0 ppg
Ben Richardson, Guard, 6.9 ppg
Aundre Jackson, Forward, 11.0 ppg
Cameron Satterwhite, Guard, 1.7 ppg
Key Returning Players:
Clayton Custer, Senior, Guard, 13.2 ppg
Marques Townes, Senior, Guard, 11.1 ppg
Cameron Krutwig, Sophomore, Center, 10.5 ppg
Lucas Williamson, Sophomore, Guard, 4.7 ppg
Bruno Skokna, Junior, Guard, 3.2 ppg
Christian Negron, Sophomore, Forward, 1.0 ppg
Key New Players:
Franklin Agunanne, Freshman, Forward
Will Alcock Freshman, Forward
Isaiah Bujdoso, Freshman, Guard
Tate Hall, Junior, Guard, JC Transfer
Cooper Kaifes, Freshman, Guard
Aher Uguak, Sophomore, Forward, Transfer from New Mexico
Projection:
Loyola can win low scoring games with their efficient offense and solid all around defense. They won their first three NCAA Tournament games by a combined total of four points, so this is certainly a team that can make the big shots and, more importantly, get the big stops. The team's top scorers, Clayton Custer and Marques Townes, are both back. Cluster was often the player making those clutch shots at the end of games. He connected on 45.1 percent of his three-point attempts and added a team high 4.1 assists and 1.5 steals. Townes is a bigger guard who is more effective attacking the basket. Cameron Krutwig will again be the big body in the paint. As a freshman last season he averaged 10.5 points and 6.1 rebounds. Fellow sophomore Lucas Williamson figures to play a larger role this year, but replacing Donte Ingram will not be an easy task. Ingram was the bigger wing who could shoot the ball like a guard and rebound like a forward. Without Ingram, Loyola will struggle more to play a four guard lineup around Krutwig. Junior college transfer Tate Hall could fill that role. The addition of forward Aher Uguak from New Mexico also adds more size to the lineup and if the frontcourt can do enough on the glass, this is a group that could make lightning strike twice.
Projected Postseason Tournament:
NCAA
By the Numbers:
Scoring Offense: 71.6 (240th in nation, 4th in conference)
Scoring Defense: 62.6 (6, 2)
Field-Goal Percentage: 50.7 (3, 1)
Field-Goal Defense: 41.4 (44, 3)
Three-Point Field Goals Per Game: 7.3 (209, 4)
Three-Point Field-Goal Percentage: 39.6 (20, 2)
Free-Throw Percentage: 72.5 (128, 3)
Rebound Margin: 1.7 (123, 5)
Assists Per Game: 15.6 (51, 1)
Turnovers Per Game: 12.4 (127, 4)