Saint Louis Billikens
2018-2019 Overall Rank: #53
Conference Rank: #1 Atlantic 10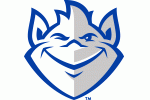 Coach Travis Ford has Saint Louis headed in the right direction. In year one of the Coach Ford era, the Billikens went 12-21. A year later, they went 17-16 and finished with a respectable 9-9 record in the tough Atlantic 10. This year everybody expects much better. Saint Louis entered last season with high hopes, but a few suspensions put a hamper on those expectations in a hurry. Still, SLU put together a solid season and now they have the talent and depth to make a run for an A10 title.
2017-18 Record: 17-16, 9-9
2017-18 Postseason: None
Coach: Travis Ford
Coach Record: 29-37 at Saint Louis, 374-294 overall
Key Departed Players:
Davell Roby, Guard, 11.5 ppg
Jalen Johnson, Forward, 9.1 ppg
Aaron Hines, Guard, 6.1 ppg
Key Returning Players:
Javon Bess, Senior, Guard, 13.3 ppg
Jordan Goodwin, Sophomore, Guard, 11.5 ppg
Hasahn French, Sophomore, Forward, 9.3 ppg
D.J. Foreman, Senior, Forward, 6.9 ppg
Elliott Welmer, Sophomore, Forward, DNP last season
Key New Players:
Carte'Are Gordon, Freshman, Forward
Ingvi Gudmundsson, Freshman, Guard
KC Hankton, Freshman, Forward
Tramaine Isabell Jr, Senior, Guard, Grad Transfer from Drexel
Demarius Jacobs, Freshman, Guard
Jack Raboin, Junior, Guard, JC Transfer
Luis Santos, Junior, Forward, Transfer from South Florida
Fred Thatch Jr, Freshman, Guard
Dion Wiley, Senior, Guard, Grad Transfer from Maryland
Projection:
Only four players who saw any action last year are back, but they are four very good players. Jordan Goodwin had a superb freshman campaign, averaging 11.5 points, 7.5 rebounds, 4.0 assists and 2.0 steals. Goodwin can put up some huge numbers and is an outside shot away from developing into one of the best players in the conference. Fellow sophomore Hasahn French had a great freshman season as well, averaging 9.3 points, 7.1 rebounds and 1.8 blocks. Seniors Javon Bess and D.J. Foreman were also key players during the 2017-2018 season. Bess led the way with 13.3 points per game. But Saint Louis has a huge amount of important newcomers that will make all the difference. In addition to Elliott Welmer, who missed last season with an injury, Coach Ford brings in experience with junior college transfer Jack Raboin, Drexel transfer Tramaine Isabell, South Florida transfer Luis Santos and Maryland transfer Dion Wiley. Both Isabell and Wiley should be able to add some much needed outside shooting to the roster. A group of freshmen, led by Carte'Are Gordon, will add even more options to an already talented roster. This group has a ton of talent and quite a bit of experience too, but Coach Ford will need to get all those new pieces to come together relatively quickly in order for Saint Louis to reach the NCAA Tournament for the first time since 2014.
Projected Postseason Tournament:
NCAA
By the Numbers:
Scoring Offense: 65.8 (328th in nation, 13th in conference)
Scoring Defense: 65.4 (23, 1)
Field-Goal Percentage: 42.2 (299, 13)
Field-Goal Defense: 42.8 (105, 3)
Three-Point Field Goals Per Game: 5.6 (327, 13)
Three-Point Field-Goal Percentage: 32.3 (314, 12)
Free-Throw Percentage: 65.2 (335, 14)
Rebound Margin: 4.1 (51, 1)
Assists Per Game: 11.9 (293, 13)
Madness 2018 Men's Basketball Recruit Rankings:
#65 Carte'Are Gordon