Samford Bulldogs
Overall Rank: #7
#1 SoCon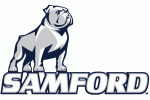 Coach Chris Hatcher has now led Samford to the playoffs two years in a row. Last season the Bulldogs finished 6-2 in SoCon play and picked up some big wins over the likes of The Citadel, Wofford and Furman. They also beat Kennesaw State in non-conference play. But it was that same Owls team that ended Samford's season in the first round of the playoffs. This time around the Bulldogs will hope to not just get back to the playoffs, but win a game for the first time since 1991.
2017 Record: 8-4, 6-2
2017 Postseason: FCS Playoffs
Coach: Chris Hatcher (21-14 at Samford, 142-71 overall)
Offensive Coordinator: Russ Callaway
Defensive Coordinator: Bill D'Ottavio
Returning Leaders:
Rushing: Moise Satine, RB, 272 yards
Passing: Devlin Hodges, QB, 3,983 yards
Receiving: Kelvin McKnight, WR, 1,179 yards
Tackles: Ahmad Gooden, DL, 101
Sacks: Ahmad Gooden, DL, 5.5
Interceptions: Koi Freeman, DB, 3
Other Key Returnees: RB Roland Adams, WR Chris Shelling, WR Andrew Harris, DL Jalen Nash, DB Jamond Glass, LB Christian Stark
Key Losses: DB Omari Williams, LB Shaheed Salmon, LB Deion Pierre, P Austin Barnard
Offense:
With nearly everybody back, Samford should have one of the most potent offenses in the FCS. It starts with quarterback Devlin Hodges, who threw for 3,983 yards and 31 touchdowns last season. He is 4,196 yards away from breaking Steve McNair's FCS record for career passing yards. Kelvin McKnight and Chris Shelling are Hodges' favorite targets. McKnight caught 86 passes for 1,179 yards and a dozen touchdowns, while Shelling added 73 receptions for 907 yards and seven scores. Samford will obviously throw the ball often, but the team does need to take advantage of space at the line of scrimmage and do better on the ground. Moise Satine and Roland Adams are back, but neither were very efficient last season. With an improving offensive line though, there is potential to at least pick up an extra yard or two per carry.
Defense:
While Hodges may be the FCS' best offensive player, Ahmad Gooden may be the best on the other side of the ball. The lineman tallied 101 tackles and a team high 5.5 sacks last season and he is expected to have a huge senior season. With Jalen Nash providing some pressure off the other edge, this is a team that should give opposing quarterbacks plenty of trouble. The biggest concern is at linebacker where Shaheed Salmon and Deion Pierre need to be replaced. Those two combined for 199 tackles in 2017. Christian Stark is a quality piece to build around, but it will not be easy replacing Salmon and Pierre. Jamond Glass and Darius Harvey are a nice duo to build around in the secondary. Koi Freeman is also brimming with potential. As a freshman last season Freeman intercepted three passes. If he can keep making big plays while developing into a more reliable player, the secondary should be in good shape.
The Bottom Line:
Samford will once again play Kennesaw State this season and will hope to get revenge on the road on September 29th. But before that they have a couple big conference games against Mercer and Chattanooga. The Bulldogs cannot afford to lose too many of those early games if they expect to return to the playoffs though. That is because there is a tough stretch of games starting on October 20th against Furman, Wofford and The Citadel. Those three games could decide Samford's playoff fate.
2017 Team Stats:
Rushing Offense: 79.5 (114th in nation, 7th in conference)
Passing Offense: 333.4 (5, 1)
Total Offense: 412.9 (33, 3)
Scoring Offense: 28.0 (44, 3)
Rushing Defense: 195.8 (101, 7)
Pass Defense: 190.2 (32, 4)
Total Defense: 386.0 (75, 7)
Scoring Defense: 22.3 (35, 1)
Turnover Margin: 0.42 (35, 3)
Sacks Allowed: 1.58 (36, 5)
#181 Gavin Orr

#213 Justin Hayes