UNC Greensboro Spartans
2018-2019 Overall Rank: #79
Conference Rank: #1 SoCon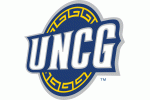 Over the last three years Coach Wes Miller has built UNC Greensboro up into a very dangerous Southern Conference team. After a trip to the CBI in 2016 and the NIT in 2017, the Spartans took the next step in 2018 and reached the NCAA Tournament. They put up a great fight against fourth seeded Gonzaga, losing 68-64. And now this is one of the top programs in the SoCon and they will go for their third straight conference title in 2018-2019.
2017-18 Record: 27-8, 15-3
2017-18 Postseason: NCAA
Coach: Wes Miller
Coach Record: 112-110 at UNC Greensboro, 112-110 overall
Key Departed Players:
Marvin Smith, Forward, 12.0 ppg
Jordy Kuiper, Forward, 7.1 ppg
Garrett Collins, Forward, 2.7 ppg
Key Returning Players:
Francis Alonso, Senior, Guard, 15.6 ppg
James Dickey, Junior, Forward, 8.9 ppg
Demetrius Troy, Senior, Guard, 7.7 ppg
Isaiah Miller, Sophomore, Guard, 8.3 ppg
Kyrin Galloway, Junior, Forward, 5.7 ppg
Malik Massey, Junior, Guard, 3.8 ppg
Kylia Sykes, Sophomore, Guard/Forward, 2.0 ppg
Key New Players:
Eric Hamilton, Junior, Forward, Transfer from Wichita State
Kaleb Hunter RS Freshman, Guard
Jack Konstanzer, Sophomore, Guard, DNP last season
Mohammed Abdulsalam, Freshman, Forward
Angelo Allegri, Freshman, Forward
Projection:
Francis Alonso is one of the best players in the conference. As a junior last year he averaged a team high 15.6 points and connected on 40.1 percent of his 277 three-point attempts. Demetrius Troy will run the point after averaging 7.7 points and 3.8 assists. He too is a fine outside shooter. Isaiah Miller had a very promising freshman campaign. He is not a shooter, but the 6-0 guard averaged 8.3 points, 3.1 rebounds, 1.5 assists and 1.4 steals in just 16.3 minutes per game. Those three will form a very potent backcourt trio. The frontcourt will be led by 6-10 junior James Dickey. He averaged 8.9 points, 8.4 rebounds and 2.1 blocks and is very productive and effective in the paint. The Spartans will miss the outside shooting of forwards Marvin Smith and Jordy Kuiper. Kyrin Galloway will likely step into a starting spot after averaging 5.7 points and 4.4 rebounds as a sophomore. He can stretch the floor with his outside shooting, although not as effectively as Smith or Kuiper, and will be a nice secondary rebounding option after Dickey.
Projected Postseason Tournament:
NCAA
By the Numbers:
Scoring Offense: 73.2 (187th in nation, 7th in conference)
Scoring Defense: 62.5 (5, 1)
Field-Goal Percentage: 44.6 (181, 6)
Field-Goal Defense: 40.6 (20, 2)
Three-Point Field Goals Per Game: 9.5 (37, 4)
Three-Point Field-Goal Percentage: 35.3 (157, 6)
Free-Throw Percentage: 69.8 (243, 9)
Rebound Margin: 6.7 (15, 1)
Assists Per Game: 13.9 (156, 7)
Turnovers Per Game: 13.7 (260, 6)