McNeese State Cowboys
Overall Rank: #13
#2 Southland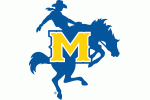 Despite a 9-2 record, McNeese was left out of the playoffs. Without Sam Houston State on the schedule and non-conference games against Florida Tech and Alcorn State, the Cowboys never had a chance to pick up a big win. And the losses against Nicholls and Central Arkansas were bad enough losses to keep McNeese on the outside looking in.
2017 Record: 9-2, 7-2
2017 Postseason: None
Coach: Lance Guidry (15-7 at McNeese, 16-8 overall)
Offensive Coordinator: Landon Hoefer
Defensive Coordinator: Lance Guidry, Kerry Joseph
Returning Leaders:
Rushing: David Hamm, RB, 805 yards
Passing: James Tabary, QB, 2,511 yards
Receiving: Lawayne Ross, TE, 570 yards
Tackles: BJ Blunt, LB, 43
Sacks: Cody Roscoe, DL, 2.5; Christian Robinson, DL, 2.5
Interceptions: Colby Burton, DB, 2; Calum Foster, DB, 2
Other Key Returnees: RB Justin Pratt, WR Parker Orgeron, K Gunnar Raborn
Key Losses: WR Kent Shelby, WR Darious Crawley, OL Andy Dodd, LB Ashari Goins, DB Dominique Hill, DL Micah Udeh, DB Damion Morgan
Offense:
McNeese boasted a decent offense last season and return enough pieces to hope for a little improvement. Quarterback James Tabary had another solid season in 2017, throwing for 2,511 yards and 21 touchdowns. Coach Lance Guidry does not need Tabary to win games for this team, but he does need Tabary to avoid mistakes and help keep the chains moving. And that is what Tabary is especially good at. It may be more difficult though without top receiver Kent Shelby, who caught 48 passes for 625 yards and three touchdowns. Parker Orgeron figures to be the new top receiver, while Tavarious Battiste could emerge as a consistent big play threat. Having tight end Lawayne Ross back does give Tabary a very talented safety valve in the passing game. The Cowboys will want to get the ground game going too with David Hamm and Justin Pratt returning. Those two rushed for 1,468 yards and nine touchdowns.
Defense:
Last year the defense ranked fifth in the FCS in total defense and first in rush defense. They allowed just 54.5 yards per game on the ground. There are some big holes to fill though, so it would be a surprise if this team again allows so few yards rushing. However, this unit should not take too much of a step back. Cody Roscoe and Christian Robinson can get to the quarterback and linebackers BJ Blunt and Tre Porter are ready to play larger roles in 2018. Defensive backs Colby Burton and Calum Foster will help keep McNeese as one of the best teams in the nation when it comes to turnover margin. The Cowboys had a great turnover margin last season and they may need to do that again in order to make the playoffs.
The Bottom Line:
Once again Sam Houston State is not on the schedule. That leaves the key conference games against Nicholls on September 15th and Central Arkansas on October 27th. Both games come at home and McNeese may need to win both of those games in order to add big wins to their resume. However, with trips to Northern Colorado and BYU, there are certainly more opportunities to pick up quality wins than there was last year.
2017 Team Stats:
Rushing Offense: 173.3 (39th in nation, 5th in conference)
Passing Offense: 235.0 (35, 4)
Total Offense: 408.3 (36, 4)
Scoring Offense: 29.8 (34, 4)
Rushing Defense: 54.5 (1, 1)
Pass Defense: 208.1 (59, 4)
Total Defense: 262.5 (5, 1)
Scoring Defense: 17.1 (11, 1)
Turnover Margin: 1.18 (8, 1)
Sacks Allowed: 2.36 (76, 7)
#212 Jordan Bullard