North Carolina A&T Aggies
Overall Rank: #14
#1 MEAC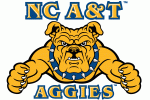 North Carolina A&T was the only FCS team to finish last season with a perfect record. The Aggies went 12-0 with a MEAC title and a Celebration Bowl victory over Grambling State. Former coach Rod Broadway retired after leading the program for seven years. Sam Washington will take over after spending the last six seasons as the team's defensive coordinator.
2017 Record: 12-0, 8-0
2017 Postseason: Celebration Bowl vs. Grambling State (W 21-14)
Coach: Sam Washington (0-0 at North Carolina A&T, 0-0 overall)
Offensive Coordinator: Chris Barnette
Defensive Coordinator: Courtney Coard
Returning Leaders:
Rushing: Marquell Cartwright, RB, 1,190 yards
Passing: Lamar Raynard, QB, 2,932 yards
Receiving: Elijah Bell, WR, 953 yards
Tackles: Deion Jones, LB, 47
Sacks: Sam Blue, DE, 6.5; Darryl Johnson, DE, 6.5
Interceptions: Jamal Darden, S, 2
Other Key Returnees: OL Marcus Pettiford, LB Kiaundric Richardson, DB Timadre Abram, DL Jermaine Williams
Key Losses: RB Jamari Smith, WR Khris Gardin, TE Trey Scott, OL Darriel Mack, OL Brandon Parker, DB Franklin McCain, LB Jeremy Taylor, LB Marcus Albert
Offense:
North Carolina A&T should continue to be among the best offenses in the MEAC. Lamar Raynard is ready for a big senior season after passing for 2,932 yards and 27 touchdowns. More importantly, he threw just seven interceptions and completed 63.7 percent of his passes. With Raynard leading the way, this will be a potent offense and it helps that he will have his favorite target back. Elijah Bell caught 64 passes for 953 yards and 11 touchdowns. The ground game returns Marquell Cartwright, who rushed for 1,190 yards and 14 touchdowns. This is an offense that does need to find some depth, but as long as Raynard, Bell and Cartwright can stay healthy, the Aggies offense will be difficult for any MEAC team to stop.
Defense:
The Aggies ranked ninth in the FCS in sacks with 3.17 per game. Defensive ends Sam Blue and Darryl Johnson return after leading the team with 6.5 sacks each. As long as those two are getting a consistent pass rush, the defense will be able to overcome the loss of some of their playmakers at linebacker and in the secondary. Deion Jones and Kiaundric Richardson are experienced senior linebackers who can help cover for the loss of Jeremy Taylor and Marcus Albert. Rover Jamal Darden is developing into a decent playmaker and he will be tasked at spearheading the team's ability to create turnovers. Last season the Aggies ranked fourth in the FCS in turnover margin, but that will be tough to replicate without Jeremy Taylor and Franklin McCain's combined 11 interceptions.
The Bottom Line:
North Carolina A&T's winning streak will be put on the line early when they face off against Jacksonville State and East Carolina to start the season. Even with a 0-2 start, the Aggies are still the favorites to win the MEAC and make a return trip to the Celebration Bowl. Howard is not on the schedule, leaving the October 20th trip to Bethune-Cookman as North Carolina A&T's toughest test that stands between them and a perfect MEAC season.
Projected Postseason: Celebration Bowl
2017 Team Stats:
Rushing Offense: 171.0 (42nd in nation, 2nd in conference)
Passing Offense: 255.8 (24, 1)
Total Offense: 426.8 (24, 2)
Scoring Offense: 35.1 (10, 1)
Rushing Defense: 82.1 (5, 1)
Pass Defense: 176.3 (21, 2)
Total Defense: 258.4 (4, 1)
Scoring Defense: 12.4 (3, 1)
Turnover Margin: 1.42 (4, 1)
Sacks Allowed: 0.92 (13, 1)
#17 Israel Spivey