Wofford Terriers
2018-2019 Overall Rank: #90
Conference Rank: #2 SoCon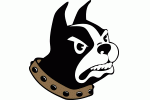 Starting back in 2009-2010, Wofford went to four NCAA Tournaments in six years. But the next two seasons saw the Terriers miss out on the postseason altogether. Coach Mike Young put an end to that little streak last season when the Terriers reached the CIT. The team lost in their first game against Central Michigan in the CIT, but getting to the postseason was a good step for a team that returns all five starters and most of their depth. Senior guard Fletcher Magee is one of the best pure shooters around. Last year he averaged 22.1 points and connected on impressive 43.9 percent of his 337 three-point attempts. You can be sure Magee will have this squad eyeing the top spot in the Southern Conference.
2017-18 Record: 21-13, 11-7
2017-18 Postseason: CIT
Coach: Mike Young
Coach Record: 232-213 at Wofford, 232-213 overall
Key Departed Players:
Derrick Brooks, Guard, 3.6 ppg
Key Returning Players:
Fletcher Magee. Senior, Guard, 22.1 ppg
Cameron Jackson, Senior, Forward, 12.0 ppg
Trevor Stumpe, Junior, Guard, 10.8 ppg
Storm Murphy, Sophomore, Guard, 6.3 ppg
Nathan Hoover, Junior, Guard, 11.0 ppg
Matthew Pegram, Senior, Center, 5.3 ppg
Tray Hollowell, Sophomore, Guard, 3.2 ppg
Keve Aluma, Sophomore, Forward, 2.5 ppg
Donovan Theme-Love, Junior, Guard, 1.9 ppg
Michael Manning Jr, Sophomore, Forward/Center, 0.5 ppg
Key New Players:
Isaiah Bigelow, Freshman, Guard
Drew Cottrell, Freshman, Guard
Chevez Goodwin, Sophomore, Forward, Transfer from Charleston
Messiah Jones, Freshman, Forward
Ryan Larson, Freshman, Forward
Alex Michael, Freshman, Forward
Projection:
Magee will have some very talented pieces around him too. Storm Murphy is the only starter who did not average double digits in the scoring column last season, but he proved to be a great point guard. As just a freshman last year, Murphy dished out 4.0 assists and committed just 1.6 turnovers per game. With a year of experience under his belt, he will be even more dangerous in 2018-2019. Juniors Trevor Stumpe and Nathan Hoover round out Coach Young's four guard lineup. Both are very capable shooters and hit over 40 percent of their three-point shots. The man in the middle of the four guards is Cameron Jackson. The 6-8 senior is an interior scoring threat and leads a decent team effort in the rebounding department. With plenty of experienced depth returning, Coach Young will be able to go deep down his bench when needed and that will start to pay off down the stretch when the Terriers are playing for an NCAA Tournament berth.
Projected Postseason Tournament: CBI/CIT
By the Numbers:
Scoring Offense: 75.8 (113th in nation, 4th in conference)
Scoring Defense: 70.7 (133, 5)
Field-Goal Percentage: 47.3 (47, 3)
Field-Goal Defense: 44.9 (231, 6)
Three-Point Field Goals Per Game: 10.5 (13, 2)
Three-Point Field-Goal Percentage: 41.3 (5, 1)
Free-Throw Percentage: 77.9 (9, 1)
Rebound Margin: 0.3 (184, 4)
Assists Per Game: 15.4 (61, 4)
Turnovers Per Game: 12.1 (107, 2)