Bradley Braves
2018-2019 Overall Rank: #91
Conference Rank: #4 Missouri Valley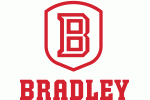 Coach Brian Wardle has slowly rebuilt Bradley. During his first season with the Braves in 2015-2016 the team won just five games. Two years ago they boosted that total to 13 and last year they won 20 games. Bradley did not play too difficult of a non-conference schedule last season, but they did beat some decent teams on their way to a 10-2 start. Conference play proved to be more difficult and there were some tough stretches, but finishing 9-9 is not too bad. And with four starters back and much of the team's depth, the expectations are growing in Peoria.
2017-18 Record: 20-13, 9-9
2017-18 Postseason: None
Coach: Brian Wardle
Coach Record: 38-60 at Bradley, 133-125 overall
Key Departed Players:
Donte Thomas, Forward, 11.7 ppg
Ryan Stipanovich, Guard/Forward, 2.4 ppg
Key Returning Players:
Darnell Brown, Junior, Guard, 13.5 ppg
Dwayne Lautier-Ogunleye, Senior, Guard, 7.6 ppg
Koch Bar, Junior, Center, 4.6 ppg
Jayden Hodgson, Sophomore, Guard, 4.4 ppg
Nate Kennell, Junior, Guard, 9.2 ppg
Elijah Childs, Sophomore, Forward, 8.4 ppg
Luuk van Bree, Senior, Forward, 4.8 ppg
Antoine Pittman, Junior, Guard, DNP
Key New Players:
Ari Boya, Freshman, Center
Armon Brummett, Freshman, Guard
Ja'Shon Henry, Freshman, Guard/Forward
Projection:
This is a Bradley team that for the most part has played together for a few years now. That cohesiveness, combined with a strong defense, makes this a team that could be in for a surprisingly good season. Darnell Brown is the team's top scoring threat after averaging 13.5 points and 4.3 assists last season. Brown is a decent outside shooter, but it is Nate Kennell who does the most damage from beyond the arc. He connected on 38.3 percent of his three-point attempts. With Dwayne Lautier-Ogunleye and Jayden Hodgson also back, Bradley has plenty of talent on the perimeter. Antoine Pittman is also back after redshirting last season. He played very well as a freshman, averaging 8.2 points per game, but slowed down during his sophomore season in 2016-2017. The frontcourt will be led by Koch Bar and Elijah Childs. Childs, a 6-7 sophomore, averaged 8.4 points, 6.2 rebounds and 1.4 blocks as a freshman. If he can keep up that pace, the Braves will quickly forget about departed starter Donte Thomas.
Projected Postseason Tournament: CBI/CIT
By the Numbers:
Scoring Offense: 67.4 (311th in nation, 8th in conference)
Scoring Defense: 64.7 (15, 4)
Field-Goal Percentage: 43.0 (267, 7)
Field-Goal Defense: 40.5 (18, 1)
Three-Point Field Goals Per Game: 6.6 (275, 8)
Three-Point Field-Goal Percentage: 35.4 (155, 6)
Free-Throw Percentage: 70.7 (202, 7)
Rebound Margin: 2.6 (88, 2)
Assists Per Game: 13.5 (178, 5)
Turnovers Per Game: 13.4 (222, 7)