Wofford Terriers
Overall Rank: #23
#3 SoCon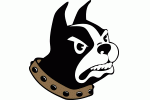 Coach Mike Ayers retired after heading the Wofford program since 1988. In that stretch the Terriers have gone to the playoffs ten times and had a losing record just five times. Replacing Ayers will not be easy, but the Terriers hope they found a long term replacement in former Pitt defensive coordinator Josh Conklin. Wofford will continue to run the triple option and they have enough talent to compete in the Southern Conference and make their third straight trip to the playoffs.
2017 Record: 10-3, 7-1
2017 Postseason: FCS Playoffs
Coach: Josh Conklin (0-0 at Wofford, 0-0 overall)
Offensive Coordinator: Wade Lang
Defensive Coordinator: Sam Siefkes
Returning Leaders:
Rushing: Andre Stoddard, RB, 825 yards
Passing: Joe Newman, QB, 167 yards
Receiving: Blake Morgan, HB, 401 yards
Tackles: Mason Alstatt, S, 76
Sacks: Miles Brown, DL, 3.0
Interceptions: Devin Watson, CB, 4
Other Key Returnees: RB Lennox McAfee, WR Jason Hill, LB DT Wilson, CB George Gbesee, DL Mikel Horton, K Luke Carter
Key Losses: QB Brandon Goodson, WR R.J. Taylor, OL Roo Daniels, OL Ross Demmel, OL Jared Jacon-Duffy, LB Colton Clemons, S Malik Rivera
Offense:
Joe Newman will take the reins on offense. As a sophomore last season, Newman backed up Brandon Goodson and threw for 167 yards and ran for 165 yards. He has the experience and talent to execute this offense effectively. It helps that Andre Stoddard is back after rushing for 825 yards and 15 touchdowns. There are plenty of other rushing options too. Lennox McAfee added 747 yards, while Blake Morgan tallied 640 yards and eight touchdowns. Morgan was also the team's most productive pass catchers. Jason Hill is a quality big play receiver. He caught 17 passes for 283 yards and a team high two touchdowns in 2017. As long as Newman is enough of a threat to throw the ball, the passing game can at least do enough to keep the opposing defense honest.
Defense:
Six starters return to a defense that ranked second in the SoCon in total defense and scoring defense. Miles Brown is a great piece to build around up front. He is a tough 6-2, 320 pound senior who can get consistent pressure up front and stuff the run. With Mikel Horton joining him, the defensive front is in very good shape. At linebacker, DT Wilson is the most experienced returning player. Last season he tallied 71 tackles. The secondary is strong at cornerback with Devin Watson and George Gbesee returning after tallying seven interceptions in 2017. Safety Mason Alstatt is a quality playmaker too and tallied 76 tackles last season. With an improved pass rush, the secondary should improve on their 205 pass yards allowed.
The Bottom Line:
Wofford's long term success is in doubt for the first time in a long time, but for now Coach Conklin has the players he needs for another good season. If the new look offensive line can find some consistency, the offense will be in good shape. One of the main problems the Terriers will run into this season is the schedule. Wofford must travel to Chattanooga, Furman, Samford and Western Carolina. On paper, those may be the four toughest games in the conference.
Projected Postseason: None
2017 Team Stats:
Rushing Offense: 244.8 (8th in nation, 2nd in conference)
Passing Offense: 102.8 (121, 8)
Total Offense: 347.6 (73, 5)
Scoring Offense: 25.7 (54, 4)
Rushing Defense: 121.7 (25, 1)
Pass Defense: 205.0 (51, 5)
Total Defense: 326.7 (26, 2)
Scoring Defense: 22.4 (36, 2)
Turnover Margin: 0.46 (32, 2)
Sacks Allowed: 0.77 (7, 2)
#54 Al Hogan

#193 Elijah Ball