Boise State Broncos
2018-2019 Overall Rank: #98
Conference Rank: #5 Mountain West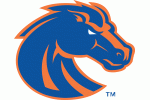 Boise State was 23-7 when the 2017-2018 regular season ended. But the loss against Utah State in the Mountain West Conference tournament sent the Broncos to the NIT. Once there, they lost a close game to Washington in the first round. With three starters gone, including 2018 NBA Draft first round selection Chandler Hutchison, Boise State should take a step back this year. However, there is still enough talent on this roster to compete in the MWC.
2017-18 Record: 23-9, 13-5
2017-18 Postseason: NIT
Coach: Leon Rice
Coach Record: 165-96 at Boise State, 165-96 overall
Key Departed Players:
Chandler Hutchison, Guard, 20.0 ppg
Chris Sengfelder, Forward, 11.8 ppg
Lexus Williams, Guard, 9.5 ppg
Key Returning Players:
Justinian Jessup, Junior, Guard, 11.6 ppg
Zach Haney, Senior, Forward, 6.6 ppg
Alex Hobbs, Junior, Guard, 8.7 ppg
Marcus Dickinson, Junior, Guard, 5.7 ppg
Cam Christon, Sophomore, Guard, 2.0 ppg
Robin Jorch, Senior, Center, 1.5 ppg
Key New Players:
Riley Abercrombie, Freshman, Forward
Jaycson Bereal, Freshman, Guard
Pat Dembley, Junior, Guard, JC Transfer
Mikey Frazier, Freshman, Forward
Bing Huang, Freshman, Guard
Max Rice, Freshman, Guard
Roderick Williams, Junior, Guard, JC Transfer
Projection:
Justinian Jessup is the team's top returning scorer with 11.6 per game. He is also one of the best pure shooters in the conference. The 6-6 junior connected on 45.7 percent of his nearly 200 attempts from beyond the arc. Jessup will make plenty of shots, but some other guards need to step into the starting lineup and help replace Hutchison and Lexus Williams. Alex Hobbs is a decent shooter and overall scorer and dished out 2.6 assists per game last season. Marcus Dickinson can develop into a dynamic scorer if his outside shot starts falling more consistently. With junior college transfers Pat Dembley and Roderick Williams entering the mix, Coach Leon Rice has plenty of options in the backcourt. Zach Haney is the big body in the frontcourt. The 6-11 senior will be asked to do more work on the glass this year with the top two rebounders on the team moving on. If the frontcourt can do enough, Boise State's backcourt has ample weapons to get this team into the postseason. However, another 23-9 type season is a bit of stretch without Hutchison.
Projected Postseason Tournament: CBI/CIT
By the Numbers:
Scoring Offense: 78.2 (66th in nation, 5th in conference)
Scoring Defense: 69.1 (91, 3)
Field-Goal Percentage: 46.1 (94, 4)
Field-Goal Defense: 42.7 (100, 2)
Three-Point Field Goals Per Game: 9.6 (30, 2)
Three-Point Field-Goal Percentage: 37.9 (47, 3)
Free-Throw Percentage: 73.8 (85, 4)
Rebound Margin: 8.1 (7, 1)
Assists Per Game: 13.3 (189, 8)
Turnovers Per Game: 13.5 (240, 8)