Colgate Raiders
Overall Rank: #36
#1 Patriot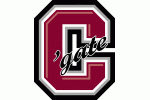 Colgate lost their Patriot League opener against Lehigh 41-38. They won the rest of the conference games, but ended up finishing tied atop the conference standings with the Mountain Hawks and missed out on the playoffs. This time around it will again likely come down to Lehigh and Colgate to represent the Patriot League in the playoffs.
2017 Record: 7-4, 5-1
2017 Postseason: None
Coach: Dan Hunt (26-21 at Colgate, 26-21 overall)
Offensive Coordinator: Chris Young
Defensive Coordinator: Paul Shaffner
Returning Leaders:
Rushing: Alex Matthews, RB, 587 yards
Passing: Grant Breneman, QB, 1,594 yards
Receiving: Thomas Ives, WR, 353 yards
Tackles: Nick Ioanilli, LB, 62
Sacks: Nick Wheeler, LB, 11.5
Interceptions: Nick Ioanilli, LB, 3; Alec Wisniewski, DB, 3
Other Key Returnees: WR Owen Rockett, OL Jovaun Woolford, OL Scott Hirshman, DB Abu Daramy Swaray, LB T.J. Holl, LB Dillon Deluliis, DB Tyler Castillo, DB Jordan Jefferson, K Chris Puzzi
Key Losses: RB Holland James, OL Ryan Paulish, LB Trent Williams, DL Pat Afriyle
Offense:
The Raiders boasted the best rushing offense in the conference last year. Leading rusher James Holland is gone, but Alex Mathews and Malik Twyman will provide a nice one-two punch in the backfield. Mathews rushed for 578 yards and six scores last season, while Twyman added 263 yards and one score as a freshman. Quarterback Grant Breneman will help boost those rush numbers as well. He ran for over 400 yards as a freshman and threw for 1,594 yards and 18 touchdowns. Most impressively is the fact that Breneman was intercepted just five times as a freshman. This is not a team that needs to rely heavily on Breneman's arm, but it is extremely beneficial that he will not force bad passes and make mistakes. With Thomas Ives, Owen Rockett and tight end Nick Martinsen back, Breneman has a very experienced group of pass catchers at his disposal.
Defense:
The defense was strong across the board in 2017 and that should be the case again in 2018. Nick Wheeler had a breakout sophomore season and tallied 11.5 sacks. As long as the line can find somebody to help out Wheeler in the pass rush, this team will again lead the Patriot League in sacks. Nick Ioanilli, T.J. Holl and Dillon Deluliis are all very talented linebackers. Ionailli led the team with 62 tackles, but Holl is the player to watch. He ended up ranked fourth on the team with 52 tackles despite playing in only four games before an injury ended his 2017 season. The secondary will be led by Alec Wisniewski, but Tyler Castillo and Jordan Jefferson are developing into very productive players as well.
The Bottom Line:
This team has all the pieces to get back to the playoffs. The potential problem is that the two toughest conference games are on the road, November 3rd at Fordham and November 10th at Lehigh. The Raiders should enter those two games 4-0 in conference play with everything left to play for. Even if they slip up once before that, they will have the opportunity to win those two games and still bring home a conference title.
2017 Team Stats:
Rushing Offense: 185.3 (29th in nation, 1st in conference)
Passing Offense: 156.0 (103, 7)
Total Offense: 341.3 (76, 4)
Scoring Offense: 27.7 (46, 2)
Rushing Defense: 115.4 (21, 1)
Pass Defense: 201.5 (44, 2)
Total Defense: 316.9 (20, 2)
Scoring Defense: 17.5 (12, 1)
Turnover Margin: 0.55 (25, 1)
Sacks Allowed: 2.27 (72, 1)