Howard Bison
Overall Rank: #44
#2 MEAC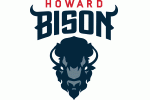 Howard took a big step forward under former Virginia coach Mike London. In game one the Bison upset UNLV and from there they kept playing well, finishing 7-4 overall and 6-2 in MEAC action. There are 11 starters returning and with the increased amount of depth coming into the program, Howard has the tools to compete for a MEAC title.
2017 Record: 7-4, 6-2
2017 Postseason: None
Coach: Mike London (7-4 at Howard, 58-55 overall)
Offensive Coordinator: Brennan Marion
Defensive Coordinator: Vince Brown
Returning Leaders:
Rushing: Caylin Newton, QB, 753 yards
Passing: Caylin Newton, QB, 2,432 yards
Receiving: Jaquez Ezzard, WR, 895 yards
Tackles: Aaron Walker, DB, 48
Sacks: Aaron Motley, DL, 5.0
Interceptions: Bryan Cook, DB, 4
Other Key Returnees: WR Kyle Anthony, DB Tye Freeland
Key Losses: RB Anthony Philyaw, RB Dezmond Wortham, OL Gerald Wright, LB Devin Rollins, DB Leland Lassiter, LB Elijah Anglin
Offense:
Caylin Newton, brother of Cam, was a big reason for Howard's successful 2017 season. He threw for 2,432 yards and 13 touchdowns and added another 753 yards and a dozen touchdowns on the ground. Newton still has work to do with his accuracy and efficiency, but he is certainly a dangerous playmaker. With the return of big play threat Jequez Ezzard and fellow receiver Kyle Anthony, the passing offense should again be among the most prolific in the MEAC. The ground game will certainly miss Anthony Philyaw though. He rushed for 769 yards and nine touchdowns. Also gone is Dezmond Wortham, who added 461 yards. That leaves very few experienced running backs on the roster.
Defense:
While the offense was potent last year, the defense was not nearly as productive. And with the top four tacklers gone, there are some concerns moving forward. The line will rebuild around Aaron Motley, a sophomore who recorded 5.0 sacks in 2017. Seniors Dominique Smith, David Lee and Marcellus Allison will lead an otherwise very young group at linebacker. The secondary should be the strength of the defense with Bryan Cook and Tye Freeland returning.
The Bottom Line:
Howard will get a couple more opportunities to upset an FBS squad this year with the season starting with games at Ohio and Kent State. The big conference game comes early when Howard takes on Bethune-Cookman in Indianapolis on September 22nd. Without North Carolina A&T on the slate this year, that will be the game that sets the tone for Howard's 2018 campaign.
Projected Postseason: None
2017 Team Stats:
Rushing Offense: 215.5 (18th in nation, 1st in conference)
Passing Offense: 230.5 (40, 2)
Total Offense: 446.0 (13, 1)
Scoring Offense: 29.9 (33, 2)
Rushing Defense: 220.6 (114, 10)
Pass Defense: 221.7 (67, 9)
Total Defense: 442.4 (108, 11)
Scoring Defense: 28.2 (82, 8)
Turnover Margin: 0.64 (21, 3)
Sacks Allowed: 2.73 (97, 9)
#27 Jayde Pierre

#83 Jalen Smith

#115 Ajae Boyd

#244 Jomier Augustine