Northern Kentucky Norse
2018-2019 Overall Rank: #117
Conference Rank: #1 Horizon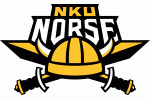 Northern Kentucky is coming off a couple big seasons. Two years ago they went to the NCAA Tournament for the first time and last year they won the regular season Horizon League title and went to the NIT. Considering the program won just nine games the year before that, this team is certainly headed in the right direction. This year will be interesting though with some key players gone. Lavone Holland averaged 13.8 points per game during his senior season and will certainly be missed, but it is the transfer of Carson Williams after his sophomore season that will really test the depth of Coach John Brannen's squad.
2017-18 Record: 22-10, 15-3
2017-18 Postseason: NIT
Coach: John Brannen
Coach Record: 55-42 at Northern Kentucky, 56-43 overall
Key Departed Players:
Lavone Holland, Guard, 13.8 ppg
Carson Williams, Forward, 12.0 ppg
Jordan Garnett, Forward, 6.7 ppg
Mason Faulkner, Guard, 5.6 ppg
Jeff Garnett, Forward, 4.3 ppg
Key Returning Players:
Drew McDonald, Senior, Forward/Center, 17.0 ppg
Jalen Tate Sophomore, Forward, 5.7 ppg
Tyler Sharpe, Junior, Guard, 6.7 ppg
Dantez Walton, Junior, Guard, 5.3 ppg
Tre Cobbs, Junior, Guard, 2.2 ppg
Chris Vogt, Sophomore, Center, 1.1 ppg
Key New Players:
Silas Adheke, Sophomore, Forward, JC Transfer
Paul Djoko, RS Freshman, Guard
Trevon Faulkner, Freshman, Guard
Bryant Mocaby, Freshman, Guard/Forward
Adrian Nelson, Freshman, Guard/Forward
Zaynah Robinson, Senior, Guard, Grad Transfer from Norfolk State
Projection:
Drew McDonald is the only returning player who averaged double digits in the scoring column last season. The 6-7 senior is a great piece to build around though. Last season he led the team with 17.0 points and 9.6 rebounds per game and his presence in the paint will open up space for other scorers to step up. Jalen Tate, Tyler Sharpe and Dantez Walton are all experienced players for the Norse and will see an increased role in 2018-2019. Four freshmen will be in the mix, but it will be the more experienced newcomers who have to step up right away. Junior college transfer Silas Adheke will add depth to the frontcourt and add another big man who can shoot from long range to the roster. Graduate transfer Zaynah Robinson will be the most important player on the team. The former Norfolk State point guard will take over for Holland and he is capable of replicating his impressive season back in 2016-2017 when he averaged 13.5 points and 4.5 assists for the Spartans. If Robinson can shake off the rust from missing last season, Northern Kentucky will be right in the mix for a conference title and another trip to the postseason.
Projected Postseason Tournament:
NCAA
By the Numbers:
Scoring Offense: 77.7 (71st in nation, 3rd in conference)
Scoring Defense: 66.0 (33, 2)
Field-Goal Percentage: 47.5 (41, 1)
Field-Goal Defense: 40.8 (28, 2)
Three-Point Field Goals Per Game: 8.1 (132, 5)
Three-Point Field-Goal Percentage: 34.1 (218, 6)
Free-Throw Percentage: 73.1 (107, 5)
Rebound Margin: 3.6 (62, 1)
Assists Per Game: 16.3 (25, 2)
Turnovers Per Game: 12.4 (130, 1)