Kent State Golden Flashes
2018-2019 Overall Rank: #124
Conference Rank: #4 Mid-American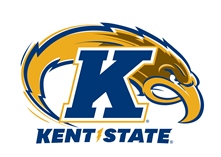 By Kent State standards, the 2017-2018 season was a bit of a disappointment. During Coach Rob Senderoff's seven seasons with the Golden Flashes, the team has never finished below .500. Last year they had to win a couple MAC tournament games to finish 17-17 overall. This group does lose a couple key players in Kevin Zabo and Adonis De La Rosa, but they also return a senior star in Jaylin Walker. Walker averaged 16.6 points per game last season and he will take all the big shots for Kent State.
2017-18 Record: 17-17, 9-9
2017-18 Postseason: None
Coach: Rob Senderoff
Coach Record: 139-98 at Kent State, 139-98 overall
Key Departed Players:
Kevin Zabo, Guard, 12.9 ppg
Adonis De La Rosa, Center, 11.8 ppg
Desmond Ridenour, Guard, 3.8 ppg
Key Returning Players:
Jaylin Walker, Senior, Guard, 16.6 ppg
Jalen Avery, Senior, Guard, 10.3 ppg
Danny Pippen, Junior, Forward, 8.1 ppg
BJ Duling, Sophomore, Forward, 4.8 ppg
Mitch Peterson, Junior, Guard, 3.5 ppg
Akiean Frederick, Senior, Forward, 2.9 ppg
Key New Players:
DeAndre Gholston, Freshman, Guard
Kain Harris, Junior, Guard, Transfer from Tulane
Chris Johnson, Sophomore, Forward, Transfer from Malone
Anthony Roberts, Freshman, Guard
Philip Whittington, Junior, Forward, Transfer from USC Upstate
Antonio Williams, Junior, Guard, JC Transfer
Troy Simons, Senior, Guard, Transfer from New Mexico, not eligible
Projection:
Walker may take all the big shots, but the Golden Flashes have a couple other returning starters who are proven playmakers. Jalen Avery will run the point after dishing out 3.6 assists and adding 10.3 points per game during his junior campaign. Danny Pippen, a 6-9 junior, added 8.1 points and 6.8 rebounds. He is also the team's best shot blocking threat and a dangerous outside shooter who can stretch the defense. If Pippen grows into a larger role, he will have a very good season. With BJ Duling, Akiean Frederick and Mitch Peterson, Coach Senderoff has some experienced players to help fill in the gaps. There are also six eligible newcomers, including four transfers. Kain Harris from Tulane and Phillip Whittington from USC Upstate both have the experience to make an immediate impact. In the end, this is an experienced team that should be right in the mix for a MAC title.
Projected Postseason Tournament: CBI/CIT
By the Numbers:
Scoring Offense: 73.0 (196th in nation, 8th in conference)
Scoring Defense: 73.6 (209, 4)
Field-Goal Percentage: 42.5 (284, 11)
Field-Goal Defense: 44.7 (219, 8)
Three-Point Field Goals Per Game: 7.5 (183, 9)
Three-Point Field-Goal Percentage: 32.6 (299, 12)
Free-Throw Percentage: 72.8 (118, 4)
Rebound Margin: 0.7 (172, 8)
Assists Per Game: 11.6 (313, 11)
Turnovers Per Game: 178, 8)