East Tennessee State Buccaneers
2018-2019 Overall Rank: #133
Conference Rank: #3 SoCon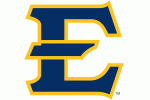 For the third straight season, East Tennessee State finished with a 14-4 record in Southern Conference play. Coach Steve Forbes has brought consistency during his time with the program. However, now the Buccaneers will have to reach that mark with a whole new group of players. Five starters may be gone, but Coach Forbes is bringing in more than enough talent for this group to once again finish 14-4 and compete for a SoCon title.
2017-18 Record: 25-9, 14-4
2017-18 Postseason: None
Coach: Steve Forbes
Coach Record: 76-29 at ETSU, 76-29 overall
Key Departed Players:
Desonta Bradford, Guard, 15.4 ppg
Jalan McCloud, Guard, 11.8 ppg
Peter Jurkin, Center, 7.5 ppg
David Burrell, Forward, 7.0 ppg
Jermaine Long, Guard, 3.6 ppg
Devontavius Payne, Guard, 9.3 ppg
Jason Williams, Guard, 2.8 ppg
Key Returning Players:
Bo Hodges, Sophomore, Guard, 9.0 ppg
Mladen Armus, Sophomore, Forward, 6.3 ppg
Kanayo Obi-Rapu, Senior, Guard, 3.4 ppg
James Harrison, Senior, Forward, 1.7 ppg
Key New Players:
Tray Boyd III, Junior, Guard, JC Transfer
Daivien Williamson, Freshman, Guard
Carlos Curtis, Freshman, Guard
Patrick Good, Sophomore, Guard, Transfer from Appalachian State
Jeromy Rodriguez, Junior, Forward, JC Transfer
Octavion Corley, Junior Center, JC Transfer
Isaiah Tisdale, Junior, Guard, JC Transfer
Kevon Tucker, Junior, Guard, JC Transfer
Myles Rasnick, Freshman, Guard
Projection:
A few returning players will be in the mix this year. Bo Hodges was the most productive last season, averaging 9.0 points as a freshman. The 6-4 guard would be a much more dynamic scoring threat if he found some consistency with his outside shot. Kanayo Obi-Rapu can knock down a few shots and had a few decent outings off the bench last season. Mladen Armus averaged 6.3 points and 5.5 rebounds as a freshman and is ready for a larger role as a sophomore. But most of the production will come from the nine newcomers. Tray Boyd, Jeromy Rodriguez, Octavion Corley, Isaiah Tisdale and Kevon Tucker all join ETSU from the junior college ranks. Tray Boyd and Isaiah Tisdale are highly regarded guards who are expected to step right into a starting role. Tisdale was a juco All-American last season and averaged 17.4 points, 4.6 rebounds and 4.5 assists while leading Vincennes Junior College to the NJCAA Final Four. Also keep an eye on Octavion Corley. The seven-footer may not do a ton of scoring, but he will be a massive presence in the paint on both ends of the floor. East Tennessee State does not lack in talent, but experience at this level could be a concern. Once all the pieces come together, this will be a tough team to beat.
Projected Postseason Tournament: CBI/CIT
By the Numbers:
Scoring Offense: 75.2 (135th in nation, 6th in conference)
Scoring Defense: 65.9 (28, 2)
Field-Goal Percentage: 47.3 (45, 1)
Field-Goal Defense: 40.3 (13, 1)
Three-Point Field Goals Per Game: 7.2 (224, 10)
Three-Point Field-Goal Percentage: 34.3 (208, 7)
Free-Throw Percentage: 71.0 (187, 7)
Rebound Margin: 3.9 (54, 3)
Assists Per Game: 14.7 (98, 5)
Turnovers Per Game: 13.4 (220, 4)