North Carolina Central Eagles
2018-2019 Overall Rank: #140
Conference Rank: #1 MEAC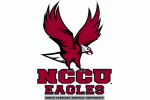 North Carolina Central had a tough February. At one point during that month they had a stretch of five losses in seven games. Once the calendar turned to March, the Eagles were a team on a mission. They won their regular season finale to finish with a respectable 9-7 record in conference play, and then went to the MEAC tournament and beat Coppin State, Savannah State, Morgan State and Hampton to reach their second straight NCAA Tournament. Once there, NCCU once again lost in the First Four, but this group should get another crack in 2019.
2017-18 Record: 19-16, 9-7
2017-18 Postseason: NCAA
Coach: LeVelle Moton
Coach Record: 171-119 at NCCU, 171-119 overall
Key Departed Players:
Brandon Goldsmith, Guard/Forward, 4.1 ppg
C.J. Wiggins, Guard, 4.6 ppg
Alston Jones, Guard, 4.5 ppg
Dominique Reid, Forward/Center, 4.5 ppg
Pablo Rivas, Forward, 11.7 ppg
Key Returning Players:
Raasean Davis, Senior, Center, 15.1 ppg
Reggie Gardner Jr, Sophomore, Guard/Forward, 10.8 ppg
Jordan Perkins, Sophomore, Guard, 8.3 ppg
Zacarry Douglas, Senior, Forward, 4.0 ppg
Larry McKnight, Senior, Guard/Forward, 5.9 ppg
John Guerra, Senior, Guard/Forward, 3.2 ppg
Key New Players:
Rashann London, Junior, Guard/Forward, Transfer from Drexel
Jibri Blount, Junior, Guard/Forward, Transfer from Cleveland State
Projection:
With four starters returning, NCCU is the favorite heading into the season. Raasean Davis, a 6-9, 240 pound center, is a beast in the paint. He led the team with 15.1 points and 8.1 rebounds during his first year with the program after transferring in from Kent State. Davis should be in for a big senior season. He will be joined in the frontcourt again by 6-8 senior Zacarry Douglas. Douglas will not put up big numbers, but he does do the dirty work in the paint to free up space for Davis. Jordan Perkins and Larry McKnight will need to help replace the outside shooting lost with the departure of Pablo Rivas. Rivas easily led the team with 42 made three-pointers and the 6-6 wing also added 7.0 rebounds and replacing him will not be easy. Perkins should at least be able to replace the scoring after a superb freshman campaign when he averaged 8.3 points and 5.4 assists. The rebounding will need to be a group effort, but with Davis leading the way, it should not be much of an issue.
Projected Postseason Tournament:
NCAA
By the Numbers:
Scoring Offense: 72.0 (223rd in nation, 8th in conference)
Scoring Defense: 69.3 (96, 1)
Field-Goal Percentage: 46.1 (102, 2)
Field-Goal Defense: 41.7 (55, 1)
Three-Point Field Goals Per Game: 6.1 (308, 10)
Three-Point Field-Goal Percentage: 33.1 (270, 6)
Free-Throw Percentage: 68.7 (274, 11)
Rebound Margin: 4.8 (45, 1)
Assists Per Game: 15.6 (53, 3)
Turnovers Per Game: 14.1 (291, 9)