Illinois Fighting Illini
2018-2019 Overall Rank: #143
Conference Rank: #11 Big Ten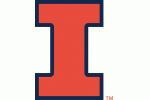 Coach Brad Underwood had a tough debut season with Illinois. The team won just four Big Ten games. This year the team should be acclimated to Coach Underwood's system a little more, but the roster turnover is massive. Four starters are gone and some of them were surprise departures. That leaves some huge holes to fill and not much hope for vast improvement in year two of the Coach Underwood era.
2017-18 Record: 14-18, 4-14
2017-18 Postseason: None
Coach: Brad Underwood
Coach Record: 14-18 at Illinois, 123-45 overall
Key Departed Players:
Leron Black, Forward, 15.3 ppg
Michael Finke, Forward, 9.8 ppg
Mark Alstork, Guard, 5.8 ppg
Te'Jon Lucas, Guard, 5.7 ppg
Mark Smith, Guard, 5.8 ppg
Greg Eboigbodin, Forward, 2.2 ppg
Key Returning Players:
Trent Frazier, Sophomore, Guard, 12.5 ppg
Kipper Nichols, Junior, Forward, 10.0 ppg
Aaron Jordan, Senior, Guard, 7.9 ppg
Da'Monte Williams, Sophomore, Guard, 3.5 ppg
Sampson Oladimeji, Junior, Guard, 0.0 ppg
Drew Cayce, Junior, Guard, 0.4 ppg
Key New Players:
Giorgi Bezhanishvili, Freshman, Forward
Ayo Dosunmu Freshman, Guard
Andres Feliz, Junior, Guard, JC Transfer
Alan Griffin, Freshman, Guard
Tevian Jones, Freshman, Guard
Samba Kane, Freshman, Center
Tyler Underwood, Junior, Guard, Transfer from Oklahoma State
Projection:
Trent Frazier is the clear leader of the team after averaging 12.5 points and 3.1 assists as a freshman. Despite only being a sophomore, Frazier will have to take on much of the leadership role on this team. Kipper Nichols, a 6-6 wing, was a double-digit scorer last year too and is a threat to score from anywhere on the floor. With the addition of freshman Ayo Dosunmu, Illinois has a point guard who is talented enough to step right into the starting lineup. And they got some depth at that position with junior college transfer Andres Feliz. Overall, the backcourt is a very talented, athletic group that can begin to run Coach Underwood's system effectively. The frontcourt has a lot of questions that may not easily be answered. Leron Black is gone with a year of eligibility remaining and that leaves limited options in the post. With Nichols and 6-7 guard Tevian Jones having some decent size, Illinois may be forced to basically run a guard lineup. Playing defense in the paint was a huge problem last year with no rim protector on the team and it could be even an even bigger problem in 2018-2019. Freshmen Giorgi Bezhanishvili and Samba Kane are the only players on the roster over 6-7 and they will be forced into important action early and often.
Projected Postseason Tournament: CBI/CIT
By the Numbers:
Scoring Offense: 75.8 (114th in nation, 5th in conference)
Scoring Defense: 73.8 (214, 12)
Field-Goal Percentage: 43.9 (211, 10)
Field-Goal Defense: 47.2 (313, 14)
Three-Point Field Goals Per Game: 7.4 (196, 7)
Three-Point Field-Goal Percentage: 33.5 (258, 12)
Free-Throw Percentage: 73.2 (105, 5)
Rebound Margin: -0.3 (206, 12)
Assists Per Game: 13.8 (164, 11)
Turnovers Per Game: 13.3 (219, 12)
Madness 2018 Men's Basketball Recruit Rankings:
#29 Ayo Dosunmu

#90 Tevian Jones