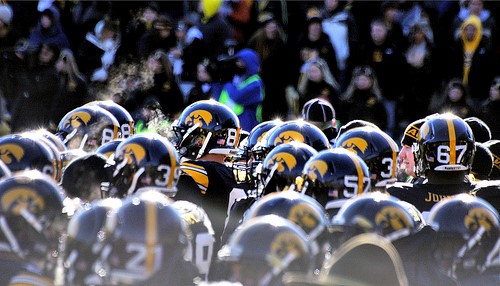 "Iowa Beats Michigan" (CC BY 2.0) by Phil Roeder
US colleges continue to produce the nation's next generation of sports stars, some of whom have found new homes recently courtesy of the various drafts. Let's take a look at five potential future stars of US sport.
Brady Singer (Baseball)
Picked up in the 18th round of the 2018 draft by the Royals, Singer has enjoyed a stand-out year, having emerged as a Major League prospect as early as 2015. Recently becoming the 32nd recipient of the Dick Howser Trophy, named SEC's Pitcher of the Year by league coaches, as well as Player of the Year by Baseball America and D1Baseball, the right-hander has huge potential. He's a starting pitcher with an above average fastball which he mixes-up with a slider as his breaking ball. He's currently playing in the College World Series for the Florida Gators.
Whitney Osuigwe (Tennis)
Currently the number one ranked junior tennis player, 16-year-old Whitney Osuigwe won the crown of ITF Junior World Champion in 2017 and added the Orange Bowl to her list of achievements before the end of 2017. She made her professional debut in 2018, losing to Claire Liu, her junior rival, at the Miami Open but big things are expected of the Florida-born player. She'll want to emulate her compatriot Serena Williams, going forward, who is 11/2 with Williamhill.com to win Wimbledon ladies' singles. She joined the IMG Academy aged 6 and, incidentally, has been coached by her father throughout her development, similarly to the inspirational Williams sisters.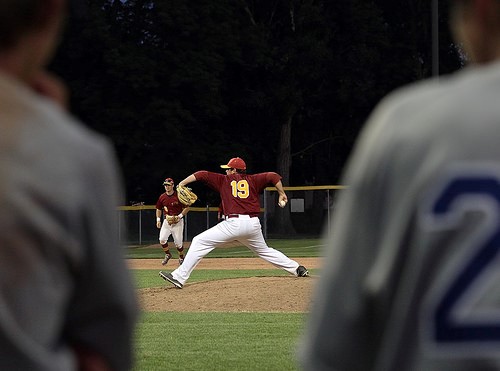 "catching the pitching action" (CC BY 2.0) by Paul L Dineen
Nick Madrigal (Baseball)
At 5'7", you might think the small-in-stature Nick Madrigal lacks the power and presence to be a Major League baseball player but he's risen to prominence thanks to his all-round game. He hit .333 in his freshman year, followed by .380 as a sophomore. In his junior year, he hit .435. He runs well, can play solid shortstop or be a reliable second baseman, and has shown himself to be a consistent hitter with an ability to turn in a high average. He was drafted by the Chicago White Sox.
Michael Porter Jr. (Basketball)
The top prospect in 2017, some commenters have said it is not an exaggeration to suggest Porter Jr. has the most potential of anyone since LeBron James. If the NBA has become a league dominated by guard men, then Porter Jr.'s collective skills, which are helped by strong athletic manoeuvrability and nearly seven feet in height, display a guard who has the skills to dribble and score from distance with either hand.
Saquon Barkley (American Football)
The Bronx-born Saquon Barkley was taken second overall in the 2018 NFL Draft by the New York Giants. His talents, which have helped him become Penn State's all-time leader in scrimmage yards, feature the sorts of strengths that have propelled other juniors before him to success at NFL level. His likable personality has made him an even more popular player just as his stats, such as setting the school record in just three seasons, have made him one of American football's potential emerging stars.