Tulane Green Wave
Overall Rank: #89
#8 American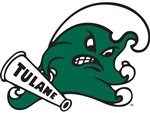 Coach Willie Fritz has spent the last two years building the Tulane program. The hope is year three will start to generate more positive results. Last season was not all bad. The Green Wave were so close to reaching six wins, ending at 5-7 and 3-5 in American Athletic Conference play. Three of those seven losses came by three points or fewer.
2017 Record: 5-7, 3-5
2017 Bowl: None
Coach: Willie Fritz (9-15 at Tulane, 202-89-1 overall)
Offensive Coordinator: Doug Russ
Defensive Coordinator: Jack Curtis
Returning Leaders:
Rushing: Jonathan Banks, QB, 492 yards
Passing: Jonathan Banks, QB, 1,797 yards
Receiving: Terren Encalade, WR, 730 yards
Tackles: Zachery Harris, LB, 69
Sacks: Robert Kennedy, DE, 1.0; Larry Bryant, LB, 1.0; Tirise Barge, S, 1.0
Interceptions: Donnie Lewis, CB, 3
Other Key Returnees: RB Darius Bradwell, WR Darnell Mooney
Key Losses: RB Dontrell Hilliard, LB Rae Juan Marbley, S Jarrod Franklin, DE Luke Jackson, CB Parry Nickerson
Offense:
Quarterback Jonathan Banks was playing well by the end of his junior year and the expectations are high for him to continue to improve heading into the 2018 campaign. Banks threw for 1,797 yards and a dozen touchdowns and added 592 yards and seven more scores on the ground. Coach Fritz normally boasts a run first option offense, but this year there should be a very balanced attack. The top five receivers are back, led by Terren Encalade and Darnell Mooney, who combined to catch 73 passes for 1,329 yards and eight touchdowns. Darius Bradwell and Corey Dauphine will help replace 1,000 yard rusher Dontrell Hilliard. Bradwell is the tough, physical rusher, while Dauphine provides the speed.
Defense:
The defense was in the middle of the AAC in most categories last season and now has a lot of rebuilding to do. Losing cornerback Parry Nickerson leaves a huge hole in the secondary. Donnie Lewis is a three year starter and will attempt to fill the void. The rest of the secondary has new faces in new places. Roderic Teamer is moving to free safety, with former cornerback P.J. Hall going to strong safety. Zachery Harris is the lone returning starter in the front seven. Cameron Sample and Robert Kennedy have some experience, but there is also some young talent like Jeffery Johnson who could make a huge impact on a team that desperately needs to get more pressure on the quarterback.
The Bottom Line:
This program is heading in the right direction under Coach Fritz, but there is a lot of turnover on the defensive side of the ball. Banks may be able to make the offense one of the best in the conference, but if the defense does not find a few surprise contributors, it may not be enough to get to six wins and a bowl game.
Projected Bowl: None
2017 Team Stats:
Rushing Offense: 231.5 (20th in nation, 4th in conference)
Passing Offense: 160.0 (116, 11)
Total Offense: 391.5 (75, 10)
Scoring Offense: 27.5 (74, 8)
Rushing Defense: 210.4 (111, 10)
Pass Defense: 225.7 (68, 3)
Total Defense: 436.1 (98, 7)
Scoring Defense: 29.2 (84, 6)
Turnover Margin: 0.67 (20, 4)
Sacks Allowed: 2.00 (60, 10)