Miami (Ohio) Redhawks
Overall Rank: #101
#6 Mid-American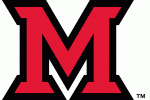 After reaching a bowl game in 2016 and just missing out last season, the Redhawks are no longer the consistent cellar dwellers they have been over the previous decade. And this year should be another one where the Redhawks should be on the cusp of a bowl berth.
2017 Record: 5-7, 4-4
2017 Bowl: None
Coach: Chuck Martin (16-33 at Miami, 90-40 overall)
Offensive Coordinator: George Barnett, Eric Koehler
Defensive Coordinator: John Hauser, Spence Nowinsky
Returning Leaders:
Rushing: Kenny Young, RB, 799 yards
Passing: Gus Ragland, QB, 2,032 yards
Receiving: James Gardner, WR, 927 yards
Tackles: Brad Koenig, LB, 103
Sacks: Doug Costin, DL, 5.0
Interceptions: Josh Allen, S, 3
Other Key Returnees: RB Alonzo Smith, OL Jordan Rigg, DE Pasquale Calcagno, CB Deondre Daniels, S De'Andre Montgomery
Key Losses: WR Ryan Smith, WR Jared Murphy, WR Sam Martin, DB Tony Reid, DB Heath Harding, DL Ikeem Allen
Offense:
With eight starters returning, the offense has plenty of potential. Quarterback Gus Ragland threw for 2,032 yards and 19 touchdowns in nine starts last season. Ragland does need to reduce his mistakes and boost his completion percentage, but he has the talent to make big strides during his senior season. However, losing a few of his favorite targets will not make it easy. The good news is that James Gardner is back after catching 47 passes for 927 yards and 11 touchdowns. A dynamic running game will also open up space for Ragland to operate. Alonzo Smith and Kenny Young were the team's top rushers a year ago, combining for 1,441 yards and eight touchdowns and there is plenty of depth behind them if necessary.
Defense:
The defense also returns eight starters to a unit that third in the MAC in total defense and scoring defense. The front four will be led by Doug Costin, who is moving to tackle from an end spot after leading the team with 5.0 sacks in 2017. Costin may not get to the quarterback as much this year, but with him and Nate Trawick occupying opposing linemen in the middle, it should create space for Pasquale Calcagno. Brad Koenig and Junior McMullen have been starting linebackers for Miami for three years now and will look to have yet another impressive season. Koenig led the team with 103 tackles, while McMullen added 57. Losing Tony Reid and Heath Harding could have a huge effect on the pass defense, especially if the pass rush does not improve. Deondre Daniels is an experienced cornerback and there are high hopes for some of the newcomers. Joshua Allen and linebacker turned safety De'Andre Montgomery will add some more experience to secondary.
The Bottom Line:
Miami was a tough team to figure out last season. They had a lot of close losses, but some of those were to pretty bad teams. This group has more experience, but consistency will likely remain an issue. The schedule is not particularly easy either with no simple non-conference games. If the Redhawks have to win six conference games to reach a bowl, they may again find themselves at 5-7 by the time the 2018 campaign comes to a close.
Projected Bowl: None
2017 Team Stats:
Rushing Offense: 145.9 (87th in nation, 8th in conference)
Passing Offense: 237.7 (59, 5)
Total Offense: 383.6 (90, 8)
Scoring Offense: 24.4 (97, 9)
Rushing Defense: 166.8 (66, 4)
Pass Defense: 200.8 (36, 4)
Total Defense: 367.6 (45, 3)
Scoring Defense: 24.1 (43, 3)
Turnover Margin: -0.08 (75, 6)
Sacks Allowed: 1.83 (47, 5)