5 Greatest football movies of all time
Football fans will certainly be keen on watching some movies devoted to their favorite game. However, they need to know some of the best football movies. Therefore, today, we present TOP 5 best films about football. Let's get going!
1. The Damned United, 2009
It is one of the best films about football, which tells about a short but dramatic period of legendary English manager Brian Clough at Leeds United. Magnificent performance given by Michael Sheen allowed moviemakers to create a recognizable and close-to-reality image of a self-confident, stubborn, but crazy about a football coach, who worked with a team that hated him.
This film is good because its director Tom Hooper decided to leave out a football component deciding to show psychological aspects of coaching.
A special place in this film takes a confrontation of self-centered, narcissistic, but honest and noble Clough with conservative and pragmatic Don Reeve. After a release of the film, the characters' relatives were unhappy that the director, in their opinion, embellished reality. Furthermore, a Leeds' leader, Johnny Giles even won a lawsuit accusing the filmmakers of misrepresenting facts. However, the film is very good.
2. A Shot at Glory, 2000
This one is among soccer movies that are undervalued featuring a typical British football fairy tale. A small club from a small Kilnoki town realizes a big dream making its way to the сup final of Scotland. It does so under leadership of a once successful but old-time coach with a once-known, but now an alcohol-addicted soccer player.
In this film, sharp themes like confrontation between fans of Celtic and Rangers, Catholics and Protestants are mixed, whereas a victory in a Cup is needed by the team so that it will not be transported to Ireland. The role of a former Celtic football star is ironically played by Rangers legend Allie McCoyust whereas the manager and president roles are played by some Hollywood actors including Robert Duvall and Michael Keaton.
3. The Game of Their Lives, 2005
It is a high-quality story about how the United States was able to win at 1950 World Cup in Brazil, which is a country known as the very founders of football game. Beyond question, to beat a Brazilian team seemed to be an impossible task initially.
There are a lot of inaccuracies in this film, as it frequently happens in Hollywood, but on the whole, it communicates quite well an essence of that really amazing story. It is interesting that in the States, few people knew about the feat of the US players, as a result of the match was not believed in and people at that time were thinking that a teletype mistakenly delivered the wrong score. Later on, low soccer's popularity did its job, and everyone forgot about a win. There is also a real Hollywood star in this film: Frank Borghi Gerard Butler who played a role of a goalkeeper.
Students are sometimes asked to write an essay on this movie, and so writing service Australia will come in handy in such case.
4. Goal!, 2005
This is a film about a Latin American guy who fulfilled his dream of becoming a professional footballer in England, becoming a player of Newcastle United.
This football movie does not have an ingenious script, but nevertheless, it features some well-shot episodes, with the use of special effects.
An atmosphere of Newcastle-upon-Tyne is also delivered well partly due to an appearance of famous "forty" fans - in particular, soloist of a famous rock band AC / DC Brian Johnson, who really is a fan of Newcastle United. A culmination moment of the match is a goal of a main hero Santiago Muñez.
5. The Class of 92, 2013
This is a documentary about the legends of Manchester United, which tells about the real story about how Sir Alex team was formed, the backbone of which was the graduates of a football academy of the club - Ryan Giggs, Paul Scholes, David Beckham, Nicky Butt and the Neville brothers.
The fact that the main characters of the film are media personalities makes it a quality product from all aspects. But the fact that all these guys are real friends who managed to convey atmosphere that reigned in Manchester United in the 90s is the strongest advantage of this movie. They are still supporting each other, recalling all the tests that they had to go through in the locker room to gain that feeling of brotherhood in "MU".
They are still "Class 92", as evidenced by the fact that Giggs, Neville, Butte, and Scholes together acquired a club named "Salford City".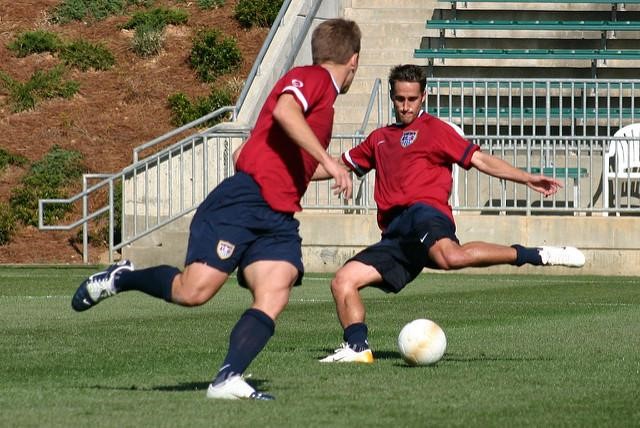 This concludes our list of TOP 5 football films. We hope you enjoyed reading this article and you will have some fun while watching some of the movies we have listed.