LSU Tigers
Overall Rank: #9
Conference Rank: #4 SEC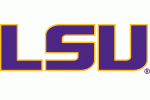 LSU's road to the College World Series went very smoothly. The Tigers cruised through the Baton Rogue regional beating Texas Southern, Southeastern Louisiana and Rice with ease. The Super Regionals were not much tougher as LSU flew by Mississippi State in two games. Heading into the CWS with a perfect 5-0 record was nice, but after slipping past Florida State, LSU lost to Oregon State in the second round and then had to beat the Beavers twice in order to reach the championship series. They managed to do it, but they did not have enough left in the tank to beat Florida for the national title.
2017: 52-20, 21-9
2017 Postseason: NCAA
Coach: Paul Mainieri
Key Departed Players:
Cole Freeman, IF, .315 BA, 2 HR, 41 RBI, 19 SB
Greg Deichmann, IF, .308 BA, 19 HR, 73 RBI
Kramer Robertson, IF, .307 BA, 8 HR, 43 RBI
Alex Lange, P, 2.97 ERA, 10-5 W-L, 124.1 IP, 150 SO
Jared Poche, P, 3.17 ERA, 12-4 W-L, 113.2 IP, 76 SO
Key Returning Players:
Zach Watson, OF, .317 BA, 9 HR, 37 RBI
Antoine Duplantis, OF, .316 BA, 2 HR, 61 RBI, 19 SB
Josh Smith, IF, .281 BA, 5 HR, 48 RBI
Beau Jordan, OF, .268 BA, 4 HR, 29 RBI
Eric Walker, P, 3.48 ERA, 8-2 W-L, 95.2 IP, 78 SO
Projection:
For now, the story for LSU is more about who is not returning. Jared Poche and Alex Lange were two of the best pitchers in the country. Poche went 12-4 with a 3.17 ERA, while Lange was 10-5 with a 2.97 ERA with 150 strikeouts. Losing those two is huge. Eric Walker was very productive as a freshman and will be the new star of the staff. He went 8-2 in 17 starts with a 3.48 ERA. The losses at the plate include Cole Freeman, Greg Deichmann and Kramer Robertson. Coach Paul Mainieri will reload as usual though. Zach Watson and Antoine Duplantis were both consistent hitters last year, batting .317 and .316, respectively. Watson belted nine homeruns, while Duplantis was second on the team with 61 RBIs. Josh Smith and Beau Jordan will add some more potency to a lineup that ranked second in the SEC in scoring last year.
Madness 2018 Draft Rankings:
#38 Zach Watson

#50 Zack Hess