Arizona State Sun Devils
Overall Rank: #23
Conference Rank: #6 Pac-12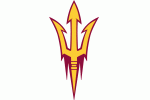 Behind their powerful bats, Arizona State snuck into the NCAA Tournament. They only managed to win one game once there, but overall it was a decent season for the Sun Devils. Often lost among all of the power hitters in the lineup was the fact that ASU ranked third in the Pac-12 in ERA. And all three of their pitchers are back. Breanna Macha led the team with 122.1 innings pitched and a 2.23 ERA. Fellow senior Dale Ryndak was not far behind Macha with a 2.37 ERA in 94.2 innings of work. Giselle Juarez will again be behind the two seniors in the circle, but she too had many successful outings. With three quality options on the mound, the Sun Devils have the luxury of riding the hot hand.
2017: 31-22, 9-15
2017 Postseason: NCAA
Coach: Trisha Ford
Key Departed Players:
Chelsea Gonzales, IF, .353 BA, 13 HR 49 RBI
Sashel Palacios, C, .322 BA, 10 HR, 40 RBI
Margaret Stahm, IF, .241 BA, 9 HR, 22 RBI
Key Returning Players:
Fa Leilua, OF, .285 BA, 13 HR, 44 RBI
Taylor Becerra, IF, .331 BA, 0 HR, 9 RBI
Skylar McCarty, OF, .303 BA, 0 HR, 10 RBI
Breanna Macha, P, 2.23 ERA, 122.1 IP, 75 SO
Dale Ryndak, P, 2.37 ERA, 94.2 IP, 64 SO
Giselle Juarez, P, 2.79 ERA, 90.1 IP, 81 SO
Projection:
Arizona State belted 1.17 homeruns per game last year, ranking fifth in the country. However, three of their top homerun hitters are gone in Chelsea Gonzales, Sashel Palacios and Margaret Stahm. The result could be a step back for the Sun Devils offense, but it could also lead to a more balanced attack. Fa Leilua was a big part of the power hitting lineup and is back after belting 13 homeruns with 44 RBIs. With juniors Taylor Becerra and Skylar McCarty emerging as leaders on the team, Arizona State should have a squad that does not have to rely on hitting homeruns to score. And with an experienced staff, the Sun Devils may not need to score quite as much.