Purdue Boilermakers
2017-2018 Overall Rank: #20
Conference Rank: #3 Big Ten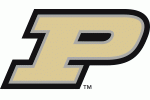 Purdue won their first outright Big Ten regular season title under Coach Matt Painter and followed it up with a trip to the Sweet Sixteen. The Boilermakers knocked off Vermont and Iowa State in the NCAA Tournament before running into a Kansas team they just could not keep up with. Five players who started at least 15 games last season are back and the Boilermakers are looking to continue that success.
2016-17 Record: 27-8, 14-4
2016-17 Postseason: NCAA
Coach: Matt Painter
Coach Record: 265-142 at Purdue, 290-147 overall
Who's Out:
The big loss is Caleb Swanigan. The 6-9 forward averaged 18.5 points and 12.5 rebounds during his sophomore season and opted to enter the NBA early. He was selected 26th overall and his large presence in the paint will certainly be missed. Basil Smotherman, Spike Albrecht and Jon McKeeman occasionally added some depth to the Boilermakers, but Albrecht was the only one who appeared in a majority of the team's games.
Who's In:
Without Swanigan, Purdue needs to find a little frontcourt depth out of the newcomers. Junior college transfer Eden Ewing and incoming freshman Aaron Wheeler should do the job. Redshirt freshman Matt Haarms, a 7-3 center, is also an intriguing option. On the perimeter the incoming freshmen are Sasha Stefanovis and Nojel Eastern. Sefanovis could develop into a decent do-it-all type of guard. For now though Eastern should make the biggest impact. At 6-6 and 220 pounds, he looks like a forward. However, he plays like a point guard. For now Eastern's versatility will allow him to play multiple roles off the bench. In the not so distant future he will be a big time player for Purdue.
Who to Watch:
Purdue returns six players from their usual seven man rotation. Replacing an All-American like Swanigan is not easy, but they certainly have a player ready to fill the void. Isaac Haas started 15 games beside Swanigan as a junior. In just 19.5 minutes per game, he was second on the team in scoring with 12.6 points and rebounding with 5.0. He has the experience, the size and the efficiency to have a superb senior season. Vincent Edwards has often been overshadowed, in multiple ways, by his frontcourt mates. However, the 6-8 senior is a very good defender, a shockingly efficient three-point shooter and a superb all-around player. He averaged 12.6 points, 4.6 rebounds and 3.2 assists, while connecting on 42.3 percent of his 111 three-point attempts. On the perimeter, Dakota Mathias, Carsen Edwards, P.J. Thompson and Ryan Cline give Coach Painter plenty of experience. Mathias is one of the most underappreciated players in the Big Ten. He averaged 9.7 points and dished out a team high 3.8 assists per game. If there are any more shots to go around, Mathias could see a big boost in his scoring since he is extremely efficient both inside and outside the arc. Edwards stepped into the starting lineup late last season and he and Cline will continue to knock down plenty of shots.
Final Projection:
Thompson has developed into a very consistent point guard. He makes this team tick. Whether he is scoring or not, Thompson will get everybody else involved. Coach Painter has an experienced team. There are a couple questions when it comes to frontcourt depth, but there is also more than enough backcourt size and depth to make up for it should the newcomers in the frontcourt struggle. Purdue has gone to the NCAA Tournament nine times in the last 11 years, but they are still looking for their first Elite Eight appearance under Coach Painter. If things fall right, this could be the year Purdue seriously pushes for a spot in the Final Four.
Projected Postseason Tournament:
NCAA
Projected Starting Five:
P.J. Thompson, Senior, Guard, 7.4 points per game
Carsen Edwards, Sophomore, Guard, 10.3 points per game
Dakota Mathias, Senior, Guard, 9.7 points per game
Vincent Edwards, Senior, Forward, 12.6 points per game
Isaac Haas, Senior, Center, 12.6 points per game
By the Numbers:
Scoring Offense: 79.7 (40th in nation, 3rd in conference)
Scoring Defense: 68.4 (78, 6)
Field-Goal Percentage: 47.9 (28, 2)
Field-Goal Defense: 42.1 (80, 8)
Three-Point Field Goals Per Game: 9.0 (45, 2)
Three-Point Field-Goal Percentage: 40.3 (9, 1)
Free-Throw Percentage: 75.7 (27, 2)
Rebound Margin: 6.6 (18, 2)
Assists Per Game: 18.3 (2, 1)
Turnovers Per Game: 13.0 (169, 7)
Madness 2018 NBA Draft Rankings:
#55 Vince Edwards

#57 Isaac Haas

Madness 2017 Men's Basketball Recruit Rankings:
#73 Nojel Eastern

#158 Aaron Wheeler