Saint Louis Billikens
2017-2018 Overall Rank: #58
Conference Rank: #4 Atlantic 10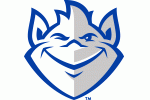 After a couple very rough years, Saint Louis is prepared to make a serious run towards the NCAA Tournament. Coach Travis Ford won just a dozen games during his debut season with the Billikens and the struggling offense that ended the previous coaching regime continued under Coach Ford. However, this is a new team and the talent is coming in to compete with the best teams in the Atlantic 10.
2016-17 Record: 12-21, 6-12
2016-17 Postseason: None
Coach: Travis Ford
Coach Record: 12-21 at Saint Louis, 357-278 overall
Who's Out:
Three players who were part of the regular rotation last season are gone. Most notable is Mike Crawford, a 6-4 guard who averaged 10.2 points during his senior season. Zeke Moore added depth on the wing during his freshman campaign and averaged nearly 21 minutes per game. He is transferring to Tennessee Tech. The other regular contributor lost is forward Reggie Agbeko. During his senior season he averaged 8.6 points per game and led the Billikens with 6.8 rebounds. Little used Matt Neufeld has opted to transfer, while Austin Gillmann has chosen to leave the program.
Who's In:
It is the five eligible transfers and the two talented freshmen that have Saint Louis fans excited. Freshman Jordan Goodwin should step right into a starting role. The highly touted 6-3 guard is a tough, smart player who could play a variety of roles for Coach Ford. If Goodwin is not running the point, he will certainly be a great secondary ballhandler. Hasahn French is nearly as highly regarded coming out of high school as Goodwin. The 6-7 forward may not make a huge impact on the offensive end right away, but he will make a big impact on the glass and in the shot blocking department. Rashed Anthony and D.J. Foreman will add to the talent in the frontcourt. Anthony is a graduate transfer from Seton Hall. The 6-9, 230 pound center rarely saw consistent playing time during his time with the Pirates. He will add some much needed size to the roster though. Foreman figures to make a bigger impact. Two years ago the 6-8 junior forward started 23 games at Rutgers and averaged 7.9 points and 6.0 rebounds. With a year in the program as a redshirt, Foreman is ready to tally plenty of double-doubles in the A10. Javon Bess and Adonys Henriquez bring size and versatility on the wing. Bess comes from Michigan State where he earned 13 starts as a sophomore in 2015-2016. At 6-6 and 220 pounds, he can play at the three or the four spot for the Billikens. At 6-6 and 215 pounds, Henriquez is another big, tough wing. He is more of a guard though since he drilled 49 three-pointers with UCF two years ago. Henriquez is a proven scorer and shooter. If he is not starting from day one, Henriquez will make a big splash off the bench. Ty Graves will be eligible following the fall semester. The Boston College transfer only spent half a season with the Eagles, but did make three starts and averaged 4.8 points and 1.6 assists.
Who to Watch:
With all of the talent coming in it is easy to forget about some of the good parts of Saint Louis' season last year. Davell Roby has been very involved in the program for three years and he will be a leader of the team during his senior season. Roby averaged 11.7 points and 3.5 assists last season and emerged as the team's top outside shooting threat. On paper, Roby's starting spot could be taken away, but either way, expect Roby to be on the floor when it matters most. Jermaine Bishop has the potential to be a very good shooter too. He was off to good start in that regard during his sophomore season, but an ankle injury ended his year after just nine games. As a freshman two years ago he averaged 8.9 points per game. Senior Aaron Hines started 24 games last season, but he will likely be relegated to the bench during his senior season. He did average 6.4 points, 2.5 assists and 2.5 rebounds and will always play tough defense. Yet, the new talent coming in should keep those numbers down in 2017-2018.
Final Projection:
Sophomores Elliott Welmer and Jalen Johnson were more often than not the starting frontcourt duo a year ago. Welmer was the team's most dangerous shot blocker as a freshman, while Johnson also showed plenty of promise. With a year of experience and far less pressure on them, expect those two to play better, even if the numbers do not show it. Coach Ford has done a great job of quickly rebuilding his roster. The last two years have been extremely difficult, but it should pay off now. This is a deep team and a talented team. As long as the pieces fit together and Coach Ford can find the right roles for all of his players, this is a team that will compete in the tough Atlantic 10. That may not be enough to reach the NCAA Tournament, but Saint Louis will be playing important games in February and March for the first time in a while.
Projected Postseason Tournament: NIT
Projected Starting Five:
Jordan Goodwin, Freshman, Guard, DNP last season
Davell Roby, Senior, Guard, 11.7 points per game
Javon Bess, Junior, Forward, DNP last season
Jalen Johnson, Sophomore, Forward, 7.5 points per game
D.J. Foreman, Junior, Forward, DNP last season
By the Numbers:
Scoring Offense: 61.4 (344th in nation, 14th in conference)
Scoring Defense: 69.3 (101, 5)
Field-Goal Percentage: 40.4 (326, 14)
Field-Goal Defense: 43.9 (180, 10)
Three-Point Field Goals Per Game: 7.0 (216, 9)
Three-Point Field-Goal Percentage: 34.2 (215, 5)
Free-Throw Percentage: 66.3 (292, 12)
Rebound Margin: -2.6 (275, 12)
Assists Per Game: 12.8 (219, 11)
Turnovers Per Game: 13.4 (214, 12)
Madness 2017 Men's Basketball Recruit Rankings:
#51 Jordan Goodwin

#147 Hasahn French