Temple Owls
2017-2018 Overall Rank: #67
Conference Rank: #6 American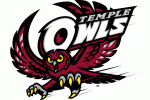 Temple started out strong last year, beating Florida State and West Virginia on their way to a Preseason NIT title. But things started going downhill from there. Obi Enechionyia started to get into a slump and the Owls lacked the depth to overcome that. Enechionyia, a 6-10 forward, still averaged 13.1 points and a team high 5.8 rebounds and 1.5 blocks during his junior year, so even with a slump he was still productive. If he can get back to his early season form and continue to stretch the defense with his outside shooting ability, Temple will make a serious push towards the top of the AAC and a trip to the NCAA Tournament.
2016-17 Record: 16-16, 7-11
2016-17 Postseason: None
Coach: Fran Dunphy
Coach Record: 230-136 at Temple, 540-299 overall
Who's Out:
Daniel Dingle is the most significant departure for the Owls. The 6-7 wing started all 32 contests and was third in the team in scoring with 12.6 points per game and connected on 38.5 percent of his three-point attempts. He also added 4.5 rebounds, 3.5 assists and 1.0 steals. Dingle could do it all and he really stepped up his game during his senior season. Mark Williams, a 6-8 forward, had a good senior season too. He averaged 6.1 points and 2.8 rebounds and was a key frontcourt player off the bench. Mike Robbins and Isaiah Lewis are also gone after seeing limited action last season.
Who's In:
Coach Fran Dunphy brings in four freshmen who will look to add quality depth right away. At the least, the future is bright with this class. The lone big man is Justyn Hamilton. The 6-10, 190 pound forward will need to add some strength, but he is an athletic player who can make some big plays on the defensive end of the floor as a freshman. The backcourt adds J.P. Moorman, De'Vondre Perry and Nate Pierre-Louis. Moorman and Perry are big wings who are brimming with potential. Pierre-Louis is the most proven scorer of the bunch. The 6-4 shooting guard will be a big time scorer sooner or later.
Who to Watch:
Pierre-Louis will have trouble cracking the regular rotation this year since Temple is loaded on the perimeter. The return of Josh Brown gives the Owls a true floor leader. Two years ago Brown averaged 8.3 points, 4.8 rebounds, 4.9 assists and 1.2 steals. He should step right back into the starting point guard job role. That will allow Shizz Alston, Jr. to spend more time off the ball. He led the team with 13.9 points per game last season during his breakout sophomore season. He is a capable outside shooter and connected on 34.5 percent of his nearly 200 three-point attempts, but Alston will use his 6-4 frame to finish around the basket as well. Alani Moore started 23 games as a freshman and the point guard showed plenty of promise. He will likely back up Brown as a sophomore. Quinton Rose could step into a starting job after his quality freshman campaign where he averaged 9.7 points and 3.8 rebounds. The big 6-8 guard will need to continue to develop his outside shot, but his size and length is very valuable on both ends of the floor. Ayan Nunez de Carvalho gained valuable experience last year and if sophomore Trey Lowe is able to return, it will add even more options on the perimeter. Lowe redshirted last season after suffering injuries in a car accident. As a freshman two years ago he averaged 4.8 points per game.
Final Projection:
Ernest Aflakpui will start beside Enechionyia in the frontcourt again this year. Aflakpui, a 6-10 center, will not score too much, but he is a big body who can hit the glass effectively. Sophomore Damion Moore is another big center who can do some rebounding and block the occasional shot. What Temple has this year that they lacked last season is experienced depth. The freshmen class did a lot last season and they should be much improved as sophomores. And this year's freshmen class is capable of doing quite a bit as well. However, Coach Dunphy does not need this year's class to do much of anything and that is a testament to just how deep this team will be in 2017-2018. An AAC title is probably out of reach, but do not be surprised if this group is one of a handful of AAC teams pushing for an at-large NCAA Tournament berth.
Projected Postseason Tournament: NIT
Projected Starting Five:
Josh Brown, Senior, Guard, 6.0 points per game
Shizz Alston, Junior, Guard, 13.9 points per game
Quinton Rose, Sophomore, Guard, 9.7 points per game
Obi Enechionyia, Senior, Forward, 13.1 points per game
Ernest Aflakpui, Junior, Center, 4.3 points per game
By the Numbers:
Scoring Offense: 70.9 (231st in nation, 5th in conference)
Scoring Defense: 71.2 (144, 9)
Field-Goal Percentage: 42.2 (286, 8)
Field-Goal Defense: 43.0 (133, 9)
Three-Point Field Goals Per Game: 9.0 (48, 1)
Three-Point Field-Goal Percentage: 35.6 (145, 3)
Free-Throw Percentage: 72.3 (105, 2)
Rebound Margin: -3.6 (295, 10)
Assists Per Game: 14.5 (104, 4)
Turnovers Per Game: 11.4 (43, 4)
Madness 2017 Men's Basketball Recruit Rankings:
#156 Nate Pierre-Louis