Western Michigan Broncos
2017-2018 Overall Rank: #93
Conference Rank: #1 Mid-American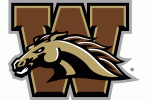 Western Michigan finished last year tied atop the balanced MAC West with an 11-7 record. Their 16-16 overall record kept them out of any postseason tournament, but this should be the year the Broncos were looking forward to. With all but one of their regular contributors returning, WMU has a great shot at reaching their first NCAA Tournament since 2014. Thomas Wilder, a 6-3 senior, averaged 19.3 points, 3.8 assists and 4.3 rebounds last season. He connected on 44.4 percent of his three-point attempts and is a superb all-around guard. He can find his teammates, play solid defense and score in a variety of ways. If Western Michigan is going to get to the NCAA Tournament, it will be Wilder who leads the way.
2016-17 Record: 16-16, 11-7
2016-17 Postseason: None
Coach: Steve Hawkins
Coach Record: 253-204 at Western Michigan, 390-315 overall
Who's Out:
The loss of Tucker Haymond is significant though. He was the only other double digit scorer besides Wilder on the team. Haymond, a 6-6 wing, averaged 14.8 points and added 5.1 rebounds and 2.5 assists. He was not as prolific or consistent shooting the basketball compared to Wilder, but Haymond knocked down 38.0 percent of his 108 attempts from beyond the arc.
Who's In:
Four freshmen will look to add depth to the Broncos. Jason Whitens is a versatile 6-5 guard who can do everything. He finished third in the Michigan Mr. Basketball voting last season and has a promising future at Western Michigan. He may not make a huge impact as a freshman, but he can at least add some size on the perimeter and play solid defense. Michael Flowers is a tough 6-2 combo guard who can help out in a variety of ways. He can score from outside, but he will also attack the basket and finish or find his teammates. Walk-on Kyle McDermed will add emergency depth to the backcourt as will former walk-on Ryan Wade. The lone newcomer in the frontcourt is TJ Clifford, although he is an undersized forward. Clifford could earn some minutes this season due to his hustle and ability to stretch the defense with his shooting ability.
Who to Watch:
The Broncos have a lot of emerging talent in the frontcourt that should help Wilder turn this into the team to beat in the Mid-American Conference. Brandon Johnson had a superb freshman campaign, averaging 8.0 points and a team high 5.5 rebounds. He recorded five double-doubles last year and should see that number skyrocket as a sophomore. Seth Dugan and Drake LaMont split the center duties last year and put up remarkably similar numbers. Dugan, in 19.7 minutes game, averaged 6.1 points and 5.4 rebounds, while LaMont, in 19.4 minutes per game, averaged 6.9 points and 4.7 rebounds. Neither are major shot blocking threats, but they will swat away a shot here and there. Unless Coach Steve Hawkins opts to play those two together at times, there are no more minutes for the big men, but expect both to be more productive during their 20 minutes or so per game. The depth behind Johnson is a bit of a concern this year. However, Lamont can play there when WMU wants to go big and Reggie Jones can play there if a smaller lineup is necessary. Jones will start on the wing after a great freshman campaign where he averaged 9.4 points, 3.5 rebounds and 2.3 assists. With his consistent outside shooting and ability to attack the basket, Jones is ideally a wing, but the 6-6, 215 pound sophomore has the size and strength to play the four when needed.
Final Projection:
The final piece of the puzzle is Bryce Moore. He has been a part-time starter the last two seasons and dished out 1.3 assists per game last year. He will not score much, but he is a capable outside shooter and the best perimeter defender on the squad. Jarrin Randall and Josh Davis both averaged fewer than ten minutes per game last season and will compete with the newcomers for minutes off the bench. Western Michigan has some very promising pieces for the future, but in 2017-2018 this team is all about Wilder. If all the pieces continue to improve, this group should rival the Broncos team of 2013-2014 that went 14-4 in MAC play and reached the NCAA Tournament.
Projected Postseason Tournament:
NCAA
Projected Starting Five:
Bryce Moore, Junior, Guard, 5.1 points per game
Thomas Wilder, Senior, Guard, 19.3 points per game
Reggie Jones, Sophomore, Guard, 9.4 points per game
Brandon Johnson, Sophomore, Forward, 8.0 points per game
Seth Dugan, Junior, Center, 6.1 points per game
By the Numbers:
Scoring Offense: 75.5 (116th in nation, 9th in conference)
Scoring Defense: 75.3 (253, 8)
Field-Goal Percentage: 45.0 (131, 6)
Field-Goal Defense: 47.1 (320, 12)
Three-Point Field Goals Per Game: 6.5 (251, 9)
Three-Point Field-Goal Percentage: 37.1 (78, 4)
Free-Throw Percentage: 70.4 (164, 5)
Rebound Margin: 2.7 (94, 5)
Assists Per Game: 12.9 (212, 7)
Turnovers Per Game: 12.5 (117, 4)