Loyola (IL) Ramblers
2017-2018 Overall Rank: #100
Conference Rank: #1 Missouri Valley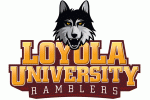 The Loyola Ramblers finished the 2016-17 season with a 18-14 overall record and an 8-10 conference record, which was good enough to finish in the middle of the Missouri Valley Conference. The MVC was dominated by Wichita State and Illinois State so Loyola was surprisingly only one game out of third place despite having a losing record in conference. The conference will be much different this season since Wichita State has moved up to the AAC and Illinois State has lost five of their top six players, meaning the league is truly up for grabs. Coach Porter Moser has yet to earn a winning record in league play during his ten years between Loyola and Illinois State, but this year the Ramblers are poised to jump to the top of the new look MVC. Despite losing Milton Doyle, their best player, Loyola returns enough experienced and talented pieces to compete for the league title.
2016-17 Record: 18-14 overall, 8-10 in conference
2016-17 Postseason: None
Coach: Porter Moser
Coach Record: 89-105 at Loyola Chicago, 194-206 overall
Who's Out:
Loyola's biggest loss is star guard Milton Doyle who had an outstanding senior season. Doyle finished in the top four of the conference in points, assists, and steals and earned first team All-MVC honors. He averaged 15.5 points, 5 rebounds, and 4.4 assists per game while guarding the best player on the opposing team, which shows the severity of his departure. Doyle had a complete offensive game and excelled as a ball handler in the pick and roll where he could get all the way to the rim or find open teammates. Even though Doyle is not a point guard, he was the team's best distributor and was responsible for creating a huge chunk of the offense. Loyola will have to replace Doyle's production with a committee of players which is feasible, but will be no easy task.
The Ramblers also lost three frontcourt players, but only one of them played a consistent role. Maurice Kirby was technically the starting center for Loyola, but he only received 9.3 minutes per game since Coach Moser usually preferred to play a smaller lineup. Kirby started his career at Virginia Tech and will play for IUPUI this season as a graduate transfer. Listed at 6-9, Kirby added some size when Loyola chose to play a bigger lineup and he averaged 1.6 points and 2.1 rebounds per game. Vlatko Granic has left the Loyola program after just one season. The junior center scored 2.4 points per game and served as a frontcourt depth player. Lastly, Matt Chastain is transferring to Illinois State after playing just three games due to a season ending knee injury. The 6-6 forward will have three years of eligibility after sitting out this season. These three loses are not very impactful and their contributions should be replaced rather easily, but the loss of Milton Doyle will require a major adjustment.
Who's In:
Loyola will introduce six new players into the program, including multiple players that should see regular playing time. The biggest addition is junior wing Marques Townes. Townes played his first two seasons at Farleigh Dickinson and averaged 11.5 points and 3.9 rebounds per game as a sophomore. He is a respectable three-point shooter since he made 35 threes at a 34% clip and could slide into the starting lineup immediately. At 6-4 and 210 pounds, Townes has good size for a wing in the MVC and should be one of the team's best defenders. Junior college transfer Adarius Avery should also factor in the perimeter rotation. Avery proved to be a prolific scorer in JUCO as he averaged 24.1 points per game, which ranked second in the nation and made him an honorable mention JUCO All-American. He should make a major impact in his first season with the program as his scoring punch and experience will be valuable off the bench. Freshman wing Lucas Williamson will provide depth as a freshman and will play sparingly in a crowded perimeter rotation.
Carson Shanks, Christian Negron, Cameron Krutwig are the other three newcomers and they should help bolster the frontcourt. Graduate transfer Carson Shanks is a 7-foot center who averaged 5.5 points and 2.2 rebounds per game at North Dakota and he should earn 10-12 minutes per game with the Ramblers. Shanks could play a similar role to Maurice Kirby where he could technically start, but not play starters minutes. Christian Negron has the potential to make a significant impact in the MVC by the time he is an upperclassman. Negron had scholarship offers from numerous high major teams, but a knee injury in high school kept him off the radar and allowed him to be picked up by Loyola. The 6-7 forward should have a spot in the rotation if he is healthy and he is the type of player that would thrive in Coach Moser's system. Cameron Krutwig is the final newcomer. Krutwig is a 6-9 center who will play sporadically and provide frontcourt depth. These six newcomers have increased Loyola's talent level and depth and will keep them competitive for the next few years.
Who to Watch:
The Ramblers return six of their top seven scorers led by forwards Aundre Jackson and Donte Ingram. Jackson technically came off the bench last season, but he played starters minutes and was the Ramblers second leading scorer. Jackson played most of his minutes at center even though he is only 6-5. He could hold his own in the paint because of his 230-pound frame, but his diverse skill set is what made him most effective. Jackson can pull opposing centers away from the basket with his jump shot and has the quickness to blow by bigger players off the dribble. He shot 45.2% from three on 14 makes, but his most impressive stat is his 66.9% field goal percentage. Jackson does not only shoot dump offs and put backs, he scores in a variety of ways in the midrange and with his back to the basket which makes that shooting percentage even more amazing. Jackson is joined in the frontcourt by 6-6 combo forward Donte Ingram. Ingram also has a versatile skillset as he can score inside and shoot from long range. He averaged 13.6 points and 6.8 rebounds per game and was the team's best shooter at 45.8% from three. Ingram's three-point shooting improved from 28% as a sophomore, but his 54 makes indicate that his improvement is no fluke. Even though both Jackson and Ingram are undersized, they really compete against bigger players defensively and on the glass. What Loyola gives up in size they make up for in skill and versatility.
Loyola returns four guards who played a key role last season, including two starters. Clayton Cluster was the starting point guard and should regain his role in his junior season. Cluster transferred to Loyola to play a bigger role after barely playing as a freshman at Iowa State. He made the most of the increase in playing time by averaging 11.6 points and 3.0 assists per game and leading the team with 58 three pointers made. His partner in the starting backcourt is Ben Richardson, who is also an excellent three-point shooter. Richardson made 52 threes at a 42.3% clip, but he is more than just a spot up shooter. He can put the ball on the floor and hit a pull up jump shot as well as find open teammates. Richardson's 2.9 assists per game show his play making ability and make him a valuable cog in the starting lineup. Bruno Skokna and Cameron Satterwhite were in the regular rotation as freshmen and they should play a valuable role off the bench. Skokna is the backup point guard while Satterwhite is an athletic 6-4 wing. The two sophomores will be challenged by Townes and Avery for playing time, but at the very least they should earn 12-15 minutes per game. This deep and experienced perimeter rotation will be an asset for the Ramblers.
Final Projection:
Many people will ask how a team that finished 8-10 and lost their best player can win the league in the following season. While the loss of Milton Doyle cannot be overstated, Loyola has enough returning talent to compete in the MVC even without their former star. The Ramblers will put five players on the court who can shoot and attack the basket making them extremely difficult to guard. Six of their top seven players return and most of them are upperclassmen and that gives them the depth, talent, and experience to win the MVC crown. The MVC will look much different this season since Wichita State is out and teams like Illinois State and Valparaiso project to be much worse than they were last season. While this shake up hurts the league as a whole, the lack of dominant teams will allow teams like Loyola, Missouri State, and Northern Iowa to compete for the league title. We project Loyola will win the conference in an extremely tight race due to their veteran laden roster, versatility, and offensive firepower.
Projected Postseason Tournament:
NCAA
Projected Starting Five:
Clayton Cluster, Guard, Junior, 11.6 points per game
Ben Richardson, Guard, Senior, 8.3 points per game
Marques Townes, Guard, Junior, DNP Last Season
Donte Ingram, Forward, Senior, 13.6 points per game
Aundre Jackson, Forward, Senior, 14.1 points per game
By the Numbers:
Scoring Offense: 73.4 (171st in nation, 2nd in conference)
Scoring Defense: 66.8 (50, 4)
Field-Goal Percentage: 48.5 (17, 1)
Field-Goal Defense: 44.6 (219, 8)
Three-Point Field Goals Per Game: 8.1 (111, 6)
Three-Point Field-Goal Percentage: 38.9 (27, 2)
Free-Throw Percentage: 70.9 (148, 5)
Rebound Margin: -1.0 (239, 5)
Assists Per Game: 14.8 (86, 2)
Turnovers Per Game: 11.8 (64, 3)