Buffalo Bulls
2017-2018 Overall Rank: #101
Conference Rank: #2 Mid-American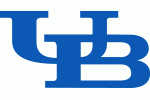 Buffalo had another up and down season in 2016-2017. However, unlike in Coach Nate Oats first season leading the program, the Bulls were not able to make a run in March and reach the NCAA Tournament. That ended Buffalo's two straight seasons with a trip to the NCAA Tournament. But it was still a good season for the Bulls and they have turned into one of the more consistent programs in the MAC. That should lead to another campaign where the Bulls compete for a conference title and a trip back to the NCAA Tournament.
2016-17 Record: 17-15, 11-7
2016-17 Postseason: None
Coach: Nate Oats
Coach Record: 37-30 at Buffalo, 37-30 overall
Who's Out:
Losing Blake Hamilton is a significant blow. During his senior season the 6-6 forward averaged 17.8 points, 6.2 rebounds and 4.2 assists. He was a forward who can handle the ball and shoot it. And Hamilton would score in the paint and help out on the glass. No single player will replace his production. Fellow starter Willie Connor also ran out of eligibility. As a senior he averaged 12.9 points per game and connected on a team high 65 three-pointers. David Kadiri was a part-time starter as a senior and averaged 5.7 points and 4.0 rebounds. When the Bulls needed a tough interior player, Kadiri was always ready. Raheem Johnson, Nikola Rakicevic and Christian Pino saw limited action last season. Rakicevic could have emerged as a starter, possibly even as soon as this year, but injuries have likely put an end to his collegiate career.
Who's In:
Coach Oats will fill some holes with six newcomers, only two of whom are incoming freshmen. James Reese and Jayvon Graves are athletic guards, but they should have some time to learn the ropes as freshmen. Brock Bertram and Montell McRae will have to provide quality depth in the paint right away. Bertram spent last season as a redshirt and the 6-11, 250 pound center did gain some strength. He should be able to at least hit the glass effectively. McRae has more experience after spending a couple years at South Plains Junior College. He is an athletic 6-10 forward who can finish above the rim. The Bulls also add junior college transfer Jeremy Harris, one of the best players to come out of the juco ranks this year. The 6-7 wing can score in bunches and from everywhere on the floor. He may not be as good of a passer as Hamilton, but Harris can pick up much of the scoring slack lost with Hamilton. It is difficult to have a better newcomer than Harris, but Buffalo managed to pull it off. Once Wes Clark is eligible in December, the Missouri transfer will be one of the best players in the MAC. Clark averaged 9.8 points and 3.0 assists as a junior for the Tigers and will step right into a starting job once eligible.
Who to Watch:
In the meantime, Dontay Caruthers and CJ Massinburg will handle the bulk of the ball handling duties. Caruthers is a defensive specialist and Massinburg is the team's top returning three-point shooter. Massinburg averaged 14.5 points and 5.6 rebounds per game as a sophomore and will benefit from the influx of ballhandlers. That means Massinburg will not have to worry about setting up his teammates and can concentrate on boosting his three-point shooting percentage up from 33.1 percent. Sophomore Davonta Jordan is another one of those point guards. He averaged 2.5 assists in limited playing time. He will start as Caruther's backup, but will likely see his minutes dip once Clark joins the fray. In the frontcourt, Nick Perkins and Ikenna Smart were both part-time starters last season. Perkins, a 6-8 junior, averaged 12.1 points and a team high 6.6 rebounds. He can stretch out the defense with his three-point shooting ability. Smart, a 6-10 junior, is not much of a scoring threat, but he is a large presence in the paint on both ends of the floor.
Final Projection:
There is a big question in the frontcourt when it comes to depth. Quate McKinzie is currently suspended and could miss the season. That leaves newcomers Bertram and McRae as the only other forwards on the roster besides probable starters Perkins and Smart. The backcourt will be extremely dangerous though, especially if Harris is knocking down shots efficiently. It may take a little time to adjust to Clark entering the team in December. Even with those growing pains extending into early conference play, Buffalo has the talent to win the MAC and start another NCAA Tournament streak.
Projected Postseason Tournament: CBI / CIT / V16
Projected Starting Five:
Dontay Caruthers, Junior, Guard, 5.1 points per game
CJ Massinburg, Junior, Guard, 14.5 points per game
Jeremy Harris, Junior, Guard, DNP last season
Nick Perkins, Junior, Forward, 12.1 points per game
Ikenna Smart, Junior, Forward, 3.2 points per game
By the Numbers:
Scoring Offense: 77.7 (71st in nation, 5th in conference)
Scoring Defense: 74.2 (224, 6)
Field-Goal Percentage: 45.1 (129, 5)
Field-Goal Defense: 41.5 (52, 2)
Three-Point Field Goals Per Game: 7.5 (157, 6)
Three-Point Field-Goal Percentage: 33.0 (272, 9)
Free-Throw Percentage: 69.2 (203, 7)
Rebound Margin: 4.7 (41, 2)
Assists Per Game: 14.3 (113, 4)
Turnovers Per Game: 14.6 (301, 10)