George Mason Patriots
2017-2018 Overall Rank: #108
Conference Rank: #8 Atlantic 10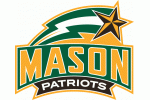 Most pundits had very low expectations for George Mason last season. The Patriots managed to win 20 games though and go a respectable 9-9 in Atlantic 10 play. That was just a year after going 5-13 in conference action during Coach Dave Paulsen's first season with the program. The Patriots are moving in the right direction and moving quicker than expected. There are some major departures, but expect this team to stay around the middle of the A-10. And with no senior on the roster, expect much better things in 2018-2019.
2016-17 Record: 20-14, 9-9
2016-17 Postseason: CBI
Coach: Dave Paulsen
Coach Record: 31-35 at George Mason, 165-129 overall
Who's Out:
Marquise Moore was the star of the Patriots last year, leading the team with 16.9 points, 10.9 rebounds and 3.5 assists. That is a lot of production to replace. Moore, a 6-2 guard, was never a great shooter, but he obviously did plenty of scoring and helped out in just about every other way possible as well. However, with a bevy of talent on the perimeter, the more significant departure could be Jalen Jenkins. The 6-7 forward averaged 12.0 points and 6.1 rebounds and was often the lone forward on a floor filled with guards. DeAndre Abram, Kameron Murrell and Danny Dixon will also not be returning for this season after seeing limited playing time in 2016-2017.
Who's In:
Size is important for this class and the hope is Greg Calixte can be the tough interior player of the future. He could be the tough interior player of the present. At 6-8 and 230 pounds, he can man the five spot. He is a good passer from the post and never lacks toughness on either end of the floor. His lack of experience may keep him out of the starting lineup for now, but he could get there by the time conference play rolls around. Goanar Mar and A.J. Wilson are big 6-7 wings who can play at the power forward spot for George Mason. Wilson redshirted last season and will be a key player on this team when Coach Paulsen needs a little more size on the floor. The likely impact freshman is Javon Greene. He is expected to be the point guard of the future, but for now he should be able to give starting point guard Otis Livingston a few extra minutes of rest every game. Zach Garrett and Jack Tempchin should find playing time more difficult to come by this season.
Who to Watch:
Despite the loss of Moore, George Mason has a ton of talent on the perimeter. Livingston was second on the team in scoring last season with 14.3 points per game. The 5-11 junior added 3.0 assists and will be the player dictating the Patriots offense. He can take the big shots for this team, but he can set up Justin Kier, Jaire Grayer and Ian Boyd as well. Kier started 29 games last season and averaged nearly 28 minutes per game, but he was often the overlooked guard on the team. He can handle the ball and help out on the glass, but only averaged 5.8 points per game. He is a decent shooter, but Kier will not have to increase his scoring output too much this year. Grayer and Boyd will handle that. Grayer averaged 11.4 points and 5.4 rebounds during his sophomore season. He also knocked down a team high 59 three-pointers and led the team in blocked shots. That is not bad for a 6-4 guard. Boyd spent most of his freshman campaign coming in off the bench, but proved to be a dangerous scorer at times. He only averaged 5.9 points and his outside shot was inconsistent, but he has the potential to be a consistent double digit scorer. If George Mason continues to play small and Boyd steps into the starting lineup, fellow sophomore Karmari Newman could turn into the first guard off the bench. He is a dangerous outside shooter and averaged 4.7 points per game in just over 15 minutes of action.
Final Projection:
Of course there is a huge need in the frontcourt, especially with the top two rebounders on the team from last year departing. Daniel Relvao and Troy Temara are the returning options. Both averaged fewer than ten minutes per game as freshman, but both were playing better by the end of the season. They will compete with Calixte for the starting job, but all three will have to make some sort of impact, especially on the glass. This was a team that ranked ninth in the country in rebound margin. That may not happen again, but the guards know how to hit the glass. The Patriots may not be a serious competitor for an Atlantic 10 title this season, but they should get back to the postseason and build expectations for next year and beyond.
Projected Postseason Tournament: CBI / CIT / V16
Projected Starting Five:
Otis Livingston, Junior, Guard, 14.3 points per game
Justin Kier, Sophomore, Guard, 5.8 points per game
Ian Boyd, Sophomore, Guard, 5.9 points per game
Jaire Grayer, Junior, Guard, 11.4 points per game
Daniel Relvao, Sophomore, Forward, 0.8 points per game
By the Numbers:
Scoring Offense: 74.1 (155th in nation, 6th in conference)
Scoring Defense: 71.7 (165, 8)
Field-Goal Percentage: 44.8 (147, 6)
Field-Goal Defense: 42.5 (103, 5)
Three-Point Field Goals Per Game: 5.4 (327, 14)
Three-Point Field-Goal Percentage: 33.6 (243, 8)
Free-Throw Percentage: 74.7 (43, 4)
Rebound Margin: 7.3 (9, 1)
Assists Per Game: 11.7 (285, 13)
Turnovers Per Game: 12.9 (163, 8)