Elon Phoenix
2017-2018 Overall Rank: #115
Conference Rank: #2 CAA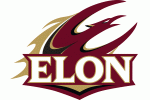 With a relatively young team, Elon managed to remain competitive in the CAA and finish tied for fourth with a respectable 10-8 record. Coach Matt Matheny hopes that the experience gained last season will help his five returning starters take the next step and seriously compete for a conference title. Tyler Seibring, a 6-8, 225 pound junior should again be the team's top player. He led the Phoenix with 14.4 points and 6.9 rebounds per game. He also dished out 1.9 assists. The big man hit nearly 40 percent of his 152 attempts from beyond the arc and that makes him very difficult for any opposing forward to defend.
2016-17 Record: 18-14, 10-8
2016-17 Postseason: None
Coach: Matt Matheny
Coach Record: 126-130 at Elon, 126-130 overall
Who's Out:
Luke Eddy and Christian Hairston were both regular starters for two years, but for the most part were relegated to the bench during the 2016-2017 campaign. Eddy still nearly played starter minutes and led team with 3.7 assists per game. He also led the team in turnovers and was inconsistent shooting the basketball. Hairston saw his minutes drop much more and the 6-7 forward averaged just 2.5 points and 2.6 rebounds per game during his senior season. The only other departure is Patrick Ryan, who played in just five games last season.
Who's In:
Coach Matt Matheny brings in three freshmen to help bolster his roster. There is room for any of the freshmen to work their way into the regular rotation, but none has to be ready to make a huge impact right away. That is a nice luxury to have. Nathan Priddy, a 6-2 guard, can do it all. As a senior last year at Argyle High School in Argyle, Texas, Priddy averaged 17.6 points, 5.1 rebounds, 4.3 assists and 3.8 steals. For now at Elon, he can do a little ball handling and provide an offensive spark off the bench. Simon Wright and Duje Radja, son of former Boson Celtic Dino Radja, will add depth in the frontcourt. Radja is the type of forward Coach Matheny likes to have. Like Seibring, Radja can stretch the defense and pass the ball.
Who to Watch:
The backcourt has a lot of weapons, but consistency will be key this year. Dainan Swoope is a big time scoring threat. He averaged 11.7 points per game and was very consistent in conference play, reaching double figures in 14 of 18 contests. He also dished out 2.8 assists per game. If this group is going to be more consistent, which is almost a certainty with five starters returning, it will stem from Swoope's development as a leader on the floor. Steven Santa Ana was the team's most prolific three-point shooter last season. He knocked down 71 long balls, but hit just 32.7 percent of his attempts. Elon is loaded with shooting threats, but players like Santa Ana need to take smarter shots when possible. Dmitri Thompson is the only returning starter who did not average double digits in the scoring column. He finished the year averaging 8.9 points and 5.0 rebounds. Thompson never really found his shooting touch last year, but he is a big 6-4, 205 pound guard who can finish at the basket and help out the frontcourt on the glass. Sheldon Eberhardt figures to provide much of the depth on the perimeter after missing half of last season with a wrist injury. In 16 games he averaged 5.0 points, 2.7 rebounds and 2.1 assists. His versatility will be a big plus off the bench.
Final Projection:
Seibring is not the only forward on the team who can score. Brian Dawkins was second to only Seibring with 12.9 points and 5.3 rebounds per game. The 6-8 senior had a breakout junior campaign and could be even better as a senior. He shot 51.5 percent from the floor and an impressive 44.6 percent from beyond the arc. And he took 101 three-pointers, so it is not like his high shooting percentage is due to a lack of outside shots. The opposition may have to focus more on Dawkins this year, but that will leave more open looks for Seibring and the group on the perimeter. At 6-11 and 250 pounds, Karolis Kundrotas is the biggest player on the roster. He can shoot too, of course, and should see an increased role after averaging fewer than ten minutes per game as a sophomore. Elon boasts a proven starting five, but it could be the play of Kundrotas, Eberhardt and the freshmen that decide if this is a team that can win a CAA title. There will be times when Coach Matheny will want to go more than seven deep, but having that starting five to rely on at the end of games should lead to a few more wins in 2017-2018.
Projected Postseason Tournament: CBI / CIT / V16
Projected Starting Five:
Dainan Swoope, Junior, Guard, 11.7 points per game
Steven Santa Ana, Junior, Guard, 11.7 points per game
Dmitri Thompson, Senior, Guard, 8.9 points per game
Tyler Seibring, Junior, Forward, 14.4 points per game
Brian Dawkins, Senior, Forward, 12.9 points per game
By the Numbers:
Scoring Offense: 75.1 (122nd in nation, 4th in conference)
Scoring Defense: 71.6 (162, 4)
Field-Goal Percentage: 44.5 (159, 5)
Field-Goal Defense: 42.0 (79, 3)
Three-Point Field Goals Per Game: 9.6 (21, 1)
Three-Point Field-Goal Percentage: 35.5 (148, 5)
Free-Throw Percentage: 68.5 (235, 6)
Rebound Margin: 0.2 (189, 6)
Assists Per Game: 14.6 (101, 4)
Turnovers Per Game: 11.7 (57, 4)