Boise State Broncos
2017-2018 Overall Rank: #117
Conference Rank: #7 Mountain West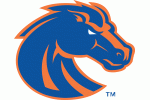 Boise State is coming off a relatively disappointing 2016-17 campaign. The Broncos have gone 20-12 in consecutive seasons and haven't made the NCAA Tournament since the 2014-15 season. The Broncos' path to go dancing this year begins and ends with star senior forward Chandler Hutchison. Hutchison is a legitimate NBA prospect and can fill up the stat sheet, notching six games with 20+ points and 10+ rebounds last season. Boise State will be losing three key contributors from last year's squad, but Leon Rice has brought in some graduate transfers to strengthen his roster. The Broncos will have nine players who averaged at least eight minutes played per game last season, so inexperience will not be an excuse. Behind Hutchison's star power and an experienced roster, Boise State will look to compete for a Mountain West title in 2017-18.
2016-17 Record: 20-12, 12-6
2016-17 Postseason: NIT
Coach: Leon Rice
Coach Record: 142-87
Who's Out:
Boise State will be without three of their top five players in terms of minutes played from last season. Starting power forward Nick Duncan graduated as the 14th leading scorer in school history. The 6-8 sharpshooter hit 250 three-pointers over the course of his four years at Boise State. James Reid also graduated after playing just one season for the Broncos as a transfer. Reid started 15 games and averaged 10 points per game while shooting 39% from beyond the arc. Duncan and Reid were first and second on the team in three point attempts, so the Broncos will need to replace their outside shooting production. The third major piece that Boise State will be without is guard Paris Austin, the second leading scorer on the team with 12.3 points per game. Austin decided to transfer from Boise State after starting 18 games last season. Austin led the team in assists and his departure will require a new floor general to step up this season. Cameron Oluyitan also transferred after playing just 7.6 minutes per game in 17 appearances last season.
Who's In:
Boise State added a couple of experienced graduate transfers to help replace some of the minutes they lost. Christian Sengfelder joins the Broncos after spending three years at Fordham. Sengfelder is a 6-7 forward who averaged 12.1 points per game last season. He's a career 34.5% shooter from three, which should partially help replace Duncan. Boise State will also add grad transfer point guard Lexus Williams out of Valparaiso. Williams had his best year at Valparaiso as a freshmen but injuries derailed his development. Williams' experience should help replace the gap left by Reid and Austin at the guard position. The Broncos will add junior college transfer Casdon Jardine as well this season. Jardine is a 6-7 forward who averaged 8 points and 7.5 rebounds for the College of Southern Idaho last season. Boise State also signed Cam Christon, a two-star freshman guard.
Who to Watch:
Mountain West Player of the Year candidate Chandler Hutchison will be Boise State's leader this season. Hutchison declared for the NBA Draft without an agent, but he ultimately decided to return for his senior season. The versatile 6-7 forward filled up the stat sheet last season, averaging 17.4 points, 7.8 rebounds, 2.6 assists and 1.2 steals per game. Justinian Jessup, a 6-6 guard, is primed for a big sophomore season after starting every game but one as a freshman. Jessup scored 7.4 points per game and shot 35.5% from three last season. Returning sophomore guards Alex Hobbs and Marcus Dickinson will both see increased roles this season. Hobbs played 12.7 minutes per game a season ago and shot 10-of-25 from behind the arc. Dickinson played 10.6 minutes per game and shot 11-of-25 from three. Both players will need to continue to display efficiency from long range in expanded roles this season.
Final Projection:
Despite losing three major contributors from their rotation a season ago, Boise State should be capable of competing in the Mountain West. Chandler Hutchison is the kind of player that can single handedly win games, especially in a relatively weak conference. Experienced transfers Lexus Williams and Christian Sengfelder will provide stability to the lineup. The Broncos will likely continue their three-man rotation at center like they did last season with Zach Haney, David Wacker and Robin Jorch. All three centers will be juniors and stand tall at 6-10 or 6-11. Boise State has a nice balance across all five positions and the stardom of Chandler Hutchison will make them a competitor in the Mountain West.
Projected Postseason Tournament: CBI / CIT/ V16
Projected Starting Five:
Lexus Williams, Senior, Guard, 5.2 points per game
Justinian Jessup, Sophomore, Guard, 7.4 points per game
Chandler Hutchison, Senior, Forward, 17.4 points per game
Christian Sengfelder, Senior, Forward, 12.1 points per game
David Wacker, Junior, Center, 4.9 points per game
By the Numbers:
Scoring Offense: 75.1 (121st in nation, 3rd in conference)
Scoring Defense: 71.2 (145, 5)
Field-Goal Percentage: 45.0 (132, 4)
Field-Goal Defense: 42.7 (114, 6)
Three-Point Field Goals Per Game: 7.9 (122, 4)
Three-Point Field-Goal Percentage: 34.8 (178, 6)
Free-Throw Percentage: 71.2 (134, 5)
Rebound Margin: 1.9 (122, 3)
Assists Per Game: 12.1 (265, 9)
Turnovers Per Game: 12.8 (144, 6)