Illinois Fighting Illini
2017-2018 Overall Rank: #122
Conference Rank: #13 Big Ten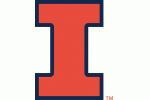 Illinois won 20 games last season, including five of their last seven regular season contests to put themselves on the bubble. They went on to make the NIT as a two-seed, beating Valparaiso and Boise State before losing to Central Florida in the quarterfinals. However, the Fighting Illini will look like a completely different team in 2017-2018 than they did a season ago. John Groce was fired as head coach after five tough seasons with just one NCAA Tournament appearance, and Illinois hired Brad Underwood away from Oklahoma State as Groce's replacement. Underwood is a home run hire having made the NCAA Tournament in all four of his seasons as a head coach. This season will be quite a challenge for Underwood to get back to the Tournament as Illinois will be without most of their top contributors from a season ago.
2016-17 Record: 20-15, 8-10
2016-17 Postseason: NIT
Coach: Brad Underwood
Coach Record: 0-0 at Illinois, 109-27 overall
Who's Out:
Illinois will have quite a bit of roster turnover as each of the top four players in minutes from last season have departed. Stud Malcolm Hill and his team-high 17.2 points per game is graduated. Also graduating from Illinois were starters Maverick Morgan (9.9 points per game) and Tracy Abrams (8.6 points per game.) Reserves Jaylon Tate, Mike Thorne and Alex Austin also graduated from the program. One surprising departure was starter Jalen Coleman-Lands, who decided to transfer after the coaching change along with Illinois' addition of multiple freshmen guards. Coleman-Lands averaged 10.3 points two seasons ago as a freshman, but saw his production and efficiency drop during his sophomore season. Reserve guard D.J. Williams transferred to George Washington after averaging 8.8 minutes in just 17 appearances.
Who's In:
Brad Underwood was able to keep four-star shooting guard Mark Smith in state after he was named Illinois Mr. Basketball. Smith had offers from Kentucky, Duke and Michigan State to give an idea of how talented he could become. Mark Alstork chose to play at Illinois during his lone season as a graduate transfer from Wright State. Alstork averaged 19 points per game last season and will be relied on as a veteran presence in the Illini locker room. Illinois also added four-star point guard Trent Frazier out of Florida. Frazier will likely be a back-up to sophomore point guard Te'jon Lucas. The Illini also added three-star guard DaMonte Williams and Creighton transfer Drew Cayce is now eligible.
Who to Watch:
Te'jon Lucas started the last 15 games of the season at point guard as a freshman, and his role should only continue to grow. Lucas led the team in assists per game and shot 37.5% from three. Brad Underwood's up-tempo system should do good things for the speedy guard. Kipper Nichols, a 6-6 combo forward, wasn't able to play until January of last season due to transfer rules but showed flashes when he did see the court. Nichols shot 44.4% from three and can stretch the floor from the power forward position. Three-point specialist Aaron Jordan only played 6.9 minutes per game in 24 appearances last season, but he shot 34.4% from three two seasons ago as a freshman. Jordan should get more playing time this season as a junior and will have ample opportunities to shoot in Underwood's offense
Final Projection:
The Illini will need a strong contribution from junior Leron Black, who will likely start at center despite being just 6-7. Michael Finke is another candidate to start at center as he is the tallest player on the team at 6-10. Finke shot 41.1% from three last season and can stretch the floor from the center position, but he needs to improve his defense. It will be tough for Illinois to compete in the Big Ten in Brad Underwood's first season. Underwood was able to take Oklahoma State to the NCAA Tournament after they struggled the year before he arrived, but Illinois doesn't have anyone close to the skill level of Jawun Evans. Illinois shouldn't have high postseason expectations this season, but the future will be bright with Brad Underwood at the helm.
Projected Postseason Tournament: CBI / CIT / V16
Projected Starting Five:
Te'jon Lucas, Sophomore, Guard, 4.8 points per game
Mark Smith, Freshman, Guard, DNP last season
Mark Alstork, Senior, Guard, 19.0 points per game
Kipper Nichols, Sophomore, Forward, 4.9 points per game
Leron Black, Junior, Forward, 8.1 points per game
By the Numbers:
Scoring Offense: 71.7 (211th in nation, 11th in conference)
Scoring Defense: 69.1 (92, 8)
Field-Goal Percentage: 44.5 (160, 9)
Field-Goal Defense: 43.4 (161, 11)
Three-Point Field Goals Per Game: 7.7 (141, 7)
Three-Point Field-Goal Percentage: 36.9 (82, 6)
Free-Throw Percentage: 68.7 (222, 10)
Rebound Margin: 1.6 (133, 8)
Assists Per Game: 13.5 (174, 12)
Turnovers Per Game: 12.4 (108, 5)
Madness 2017 Men's Basketball Recruit Rankings:
#77 Mark Smith

#99 Trent Frazier

#150 Da'Monte Williams