Fort Wayne Mastodons
2017-2018 Overall Rank: #132
Conference Rank: #2 Summit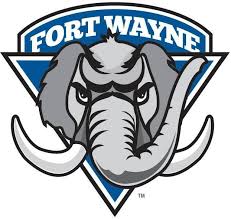 Fort Wayne had an up and down 2016-2017 campaign. They picked up some impressive non-conference wins, most notably a 71-68 overtime thriller at Indiana on November 22nd, but there was too much inconsistency during conference play and the Mastodons ended up with an 8-8 mark in Summit League action. Fort Wayne then fell to Omaha in their conference tournament opener. However, their impressive non-conference record did earn them a trip to the CIT, where they eventually lost to Texas A&M-Corpus Christi in the quarterfinals. The Summit League will not be easy this year, but the Mastodons will be hoping to reach a better tournament in 2018.
2016-17 Record: 20-13, 8-8
2016-17 Postseason: CIT
Coach: Jon Coffman
Coach Record: 59-36 at Fort Wayne, 59-36 overall
Who's Out:
Winning the Summit League will not be easy without Mo Evans. He averaged 16.9 points, 6.2 assists, 3.1 rebounds and 1.5 steals during his senior season. He knocked down 100 three-pointers and connected on 43.3 percent of his attempts from beyond the arc and 46.4 percent of his shots from the floor. Evans not only took many of the big shots for Fort Wayne, he set up his teammates as well. The Mastodons will look different without Evans running the show, but Coach Jon Coffman will still have his team playing efficient basketball even without Evans. The other major loss is Brent Calhoun. The 6-9, 260 pound center averaged 9.8 points, 6.1 rebounds and 1.5 blocks during his senior season. He provided the toughness in the paint on both ends of the floor. DeAngelo Stewart, who averaged 4.9 points and 2.2 rebounds as a senior, was part of the regular rotation. At times, Jordon King, Charles Ruise and Racine Talla were part of the regular rotation as well and all averaged around ten minutes per game. That is a lot of depth lost.
Who's In:
The group of six freshmen will have to provide practically all of the depth this season. Coach Coffman could settle on a seven player rotation eventually, so that would leave two spots for the freshmen. Of course having the ability to go eight or nine deep would be preferable. Redshirt freshman Chris Rollins will get an opportunity to see quality minutes at the point. He is a quick and smart lead guard who should develop into a very good player sooner or later. Fellow guard Jordan Coblin also redshirted last season. He is a big time scorer who can provide an offensive spark off the bench. Incoming freshmen Matt Weir and Jairus Stevens will also look for minutes on the perimeter. Weir is a scoring point guard who can shoot the ball extremely well and set up his teammates. Stevens is a big 6-5 guard who can score in bunches. With a limited amount of size on the perimeter, Stevens will get every opportunity to contribute right away. The frontcourt adds redshirt freshman Dylan Carl and true freshman Cameron Benford. There are only three eligible forwards on the roster and those are two of them. Fort Wayne's size concerns are not as bad as that makes it sound, but Carl or Benford will at least have to provide depth at the five spot. At 6-11 and 205 pounds and with a year in the program, expect Carl to earn quite a few minutes this season.
Who to Watch:
The five returning players will likely form the starting lineup at first. Bryson Scott transferred in from Purdue and averaged 16.1 points, 2.3 assists, 5.0 rebounds and 1.7 steals in his first season in Fort Wayne. Scott can run the point and will have to do more of that this year depending on the development of the freshmen. He is not afraid to shoot the ball, but connected on just 33.7 percent of his attempts from beyond the arc, which is pretty bad for a team that shot over 40 percent from long range. Whether running the point or not, Scott is a great player to have. Kason Harrell is one of those players who will boost the team's shooting numbers. After barely playing as a freshman, Harrell had a breakout sophomore season in which he averaged 10.9 points and connected on 43.8 percent of his three-point attempts. Fort Wayne fans hope that Jax Levitch can have a similar jump in production between his freshman and sophomore seasons. Last season he averaged just 9.8 minutes per game, but Levitch is a big 6-7 guard who can shoot over most defenders. John Konchar is one of the most underappreciated players in the country. He is just 6-5, but plays much, much bigger. As a sophomore last season he averaged 14.9 points, 8.7 rebounds, 3.8 assists and 1.7 steals. He can do it all and he can defend most power forwards in the Summit League without a problem. He is the reason that an undersized Fort Wayne team led the conference in rebounding margin last season and could again this season. Konchar is not just a tough undersized forward though; he also hit 51.7 percent of his 87 three-point attempts. Konchar will need some help from Xzavier Taylor on the glass. Taylor was the forward who came in off the bench last season and now will need to step into a starting role. The 6-9 senior averaged 4.9 points and 2.4 rebounds in 16.5 minutes per game. The biggest potential issue in the frontcourt is in the shot blocking department where the Mastodons have no proven options to replace Calhoun.
Final Projection:
Coach Coffman has some very talented pieces to build around. And most of those pieces are extremely versatile. Scott can run the point or he can slide over to the two guard spot or the three if one of the freshman point guards prove ready to step into a starting role. Konchar can play at the four, but he can also be a very productive small forward. If both the frontcourt newcomers emerge as regular contributors, that could be an option at times. Right now it looks like this group must avoid any injuries to remain competitive in the Summit League. That could change eventually as the freshmen gain experience, but it is difficult to expect a team that must rely so heavily on unproven options, even if it is off the bench, to win in a competitive conference like the Summit League. This team should come close though.
Projected Postseason Tournament: CBI / CIT / V16
Projected Starting Five:
Bryson Scott, Senior, Guard, 16.1 points per game
Kason Harrell, Junior, Guard, 10.9 points per game
Jax Levitch, Sophomore, Guard, 1.8 points per game
John Konchar, Junior, Guard, 14.9 points per game
Xzavier Taylor, Senior, Forward, 5.2 points per game
By the Numbers:
Scoring Offense: 86.9 (4th in nation, 1st in conference)
Scoring Defense: 78.8 (315, 7)
Field-Goal Percentage: 49.6 (7, 1)
Field-Goal Defense: 44.3 (197, 4)
Three-Point Field Goals Per Game: 10.7 (4, 1)
Three-Point Field-Goal Percentage: 40.2 (12, 1)
Free-Throw Percentage: 72.5 (98, 5)
Rebound Margin: 4.7 (40, 1)
Assists Per Game: 17.5 (8, 1)
Turnovers Per Game: 13.6 (241, 8)