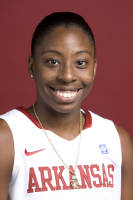 C'eira Ricketts, Senior, Shooting Guard, Arkansasa
Overview:
C'eira Ricketts has been the leader of Arkansas' team since she arrived on campus. As a freshman she led the Lady Razorbacks with 12.6 points, 3.9 assists and 2.6 steals. The 5-9 Louisville, Kentucky native even added 6.3 rebounds per game. Ricketts scoring went down a little bit during her sophomore season, but she still did a lot for the team and kept playing stellar defense and finding her talented teammates.
Ricketts expanded her game as an upperclassman. She once again led the team with 13.9 points and 3.7 assists, but Ricketts started to become a more consistent outside shooter, connecting on 34.9 percent of her attempts from long range.
Final Projection:
Ricketts is not a pure point guard, but she lacks the outside shooting ability to be a shooting guard at the next level. Her outside shooting has improved, but it needs to get better. At 5-9, she does not have the luxury to be a small forward at the next level despite her ability to hit the glass. That is what makes Ricketts an outsider looking in at the WNBA right now, but if her outside shooting keeps improving or some team wants to turn her into a pure point guard, she could be a late selection in the WNBA Draft.