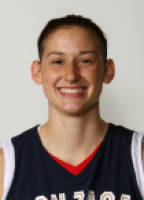 Katelan Redmon, Senior, Power Forward, Gonzaga
Overview:
Katelan Redmon started her collegiate career at Washington. As a true freshman she started all 31 games and was named to the Pac-10 All-Freshman Team. She led the Huskies with 11.8 points per game and added 4.5 rebounds. Despite her success in Seattle, Redmon opted to transfer back home to Spokane, Washington following her freshman campaign.
The change of venue and sitting out a year per NCAA transfer rules did not slow down the 6-1 forward. On her new team, Redmon spent most of her sophomore season coming in off of the bench, but that did not stop her from having another great year, tallying 11.1 points and 4.1 rebounds per game. During the 2010-2011 campaign Redmon was back in the starting lineup and averaged 16.7 points and 6.2 rebounds on a Gonzaga team that dominated the West Coast Conference.
Final Projection:
Redmon is a slasher who can get to the basket very effectively using her size and athleticism. As an upperclassman she started to develop other parts of her game and is turning into a decent passer and defender. Those skills have turned her into a solid glue player who can do a ton of scoring as well. However, she is not a shooter or a post scorer and if a defender can stop her from attacking the basket, she can have a hard time putting up big numbers in the point column.