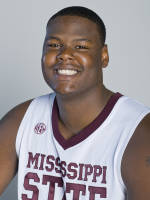 Renardo Sidney, Junior, Power Forward, Mississippi State
Overview:
Renardo Sidney was highly touted coming out of Fairfax High School in California, eventually deciding to head to Mississippi State to be a Bulldog. Many looked at Sidney as a future lottery pick in the NBA, with his size, and more importantly the ability that went with that size. Unfortunately for Sidney though, he was ruled ineligible for his freshman season and 30 percent of his team's games in his sophomore season, after the NCAA ruled that he accepted improper benefits.
In 2010, Sidney was a solid contributor after missing those first nine games as a sophomore, finishing the year third on the team in scoring, averaging 14.2 points a night and leading the team with 7.6 boards per contest. He has the ability to be a quality player on the college level, however many question his work ethic which can, and most likely will, affect his future NBA draft status.
Final Projection:
Renardo Sidney's draft status has fluctuated quite a bit since his time as a high school senior until now, and it will probably change again before the NBA draft in 2012. Even though Sidney has been relatively productive as a college player, there is not a very large sample for scouts to dissect. Here at CollegeSportsMadness.com, we have Renardo Sidney on the outside looking in when we project the NBA draft in 2012. There is no doubt that Sidney has the size to play in the NBA, however, there is a doubt that Sidney has the work ethic to make it on the next level.