Could the Oregon State Beavers Upset the Ducks?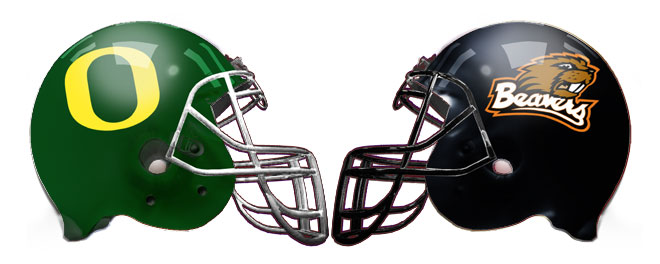 The Oregon Ducks are one of the biggest favorites of rivalry weekend, coming in at 10-1 and with a spot in the Pac-12 Championship already assured coming into their last game of their regular season. Marcus Mariota is almost a lock to be the number one overall pick in the 2015 NFL Draft. And the Ducks are the second-ranked team in the nation.
But that's just the beginning of the story. This Saturday, the Ducks take on the Oregon State Beavers in a game that has could be closer than Vegas suggests. Why?
For starters, just ask the Arizona State Sun Devils. Two weeks ago, Arizona State was the No. 6 team in the nation and still in the mix for the College Football Playoff. Sean Mannion and the Beavers had something to say about that, however, dusting off the Sun Devils by outscoring them by double digits in the second half to win 35-27. Arizona State is now ranked 13th and will not play in the Playoff.
Another great reason to like the Beavers is Mannion himself. Mannion may well be the best quarterback in the Beavers' history, and he is capable of keeping up with Mariota, at least for as long as his defense does the same. The college football betting line on this game likes Ducks by almost three majors, but that's got nothing to do with Mannion.
The last and perhaps most compelling reason to consider State in this one is the general position of the Ducks, who have been ranked amongst the best all season, and don't have anything to gain directly from this tilt. That said, they do have lots to lose: falling to the Beavers would certainly cost them their de facto spot in the College Football Playoff. And if they look past Mannion and the Beavers to their Pac-12 Championship game or beyond…they could be in for a shock.