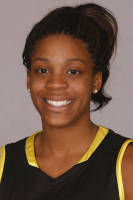 Nia Jackson, Senior, Point Guard, Oregon
Overview:
Nia Jackson's collegiate career got off to a slow start. As a freshman during the 2007-2008 campaign, Jackson came off the bench in the first 17 games. During those 17 games she averaged just 10.6 minutes per game and averaged a mere 2.5 points and 0.9 assists per game. After that a couple of injuries sidelined her for the rest of the year. The more serious of the injuries was a sprained ACL in her left knee. That injury came back prior to her sophomore season, but this time Jackson tore her ACL and was out for the year.
She came back strong as a redshirt sophomore in 2009-2010, starting all 34 games for the Ducks at the point guard position. During the year she averaged 10.5 points and 3.6 assists. By her junior campaign Jackson emerged as a superb scorer, mostly due to her consistency from shooting beyond the arc. However, Jackson missed some time again with an injury.
Final Projection:
Jackson needs to stay healthy if she wants to get an opportunity to play at the next level. Jackson's ability to consistently hit the three-pointer has turned her into a superb scoring point guard. Jackson now has the ability to dribble around defenders who guard too close or shoot over defenders who back off too much. If she can stay healthy, Jackson could quickly move up draft boards.