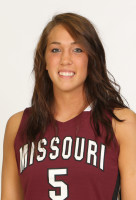 Casey Garrison, Senior, Shooting Guard, Missouri State
Overview:
Casey Garrison became the first Missouri State player ever to lead the Bears in points, rebounds, assists, steals and blocks in the same year. And that was when she was just a freshman. As a result, Garrison was named the Missouri Valley Conference Freshman of the Year, but that was just the start of the accolades for the Bolivar, Missouri native. The following season Garrison led the conference with 19.9 points per game and added 7.3 rebounds, 5.1 assists and 2.7 steals. She even shot over 40 percent from beyond the arc. Those are some very impressive numbers and Garrison won the conference's Player of the Year honors this time around.
As an upperclassman Garrison continued to be Missouri State's go-to-player. During the 2010-2011 campaign she averaged 18.2 points, 5.7 rebounds, 3.8 assists and 1.7 steals and is rewriting the Missouri State record books.
Final Projection:
There is not much Garrison cannot do. The 6-0 guard is a consistent and efficient scorer inside and out. She may not take a ton of three-pointers, but she does take smart shots and connects on a good percentage of her attempts. Her ability to hit the glass, find her teammates and play stellar defense makes her one of the best all-around players in this class and a possible second round selection in the 2012 WNBA Draft.