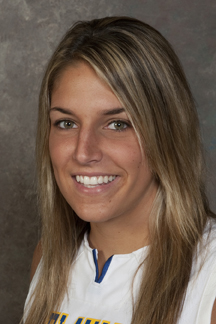 Elena Delle Donne, Senior, Small Forward, Delaware
Overview:
Few players have made such a big impact so quickly as Elena Delle Donne. During the 2008-2009 season Delle Donne was dominating the volleyball court. A year later the 6-5 forward absolutely dominated on the hardwood. She averaged an amazing 26.7 points, 8.8 rebounds and 2.1 blocks during her first season of play. At 6-5, Delle Donne has the size to do plenty of damage in the paint, but she is also a superb outside shooter. She knocked down 41.2 percent of her attempts from beyond the arc. When a 6-5 player can do all of that, she is nearly impossible to stop.
Delle Donne is a superb shooter from anywhere on the floor and has the size to be a force inside and out at the next level. As a sophomore Delle Donne averaged 25.3 points, 7.8 rebounds and 2.6 blocks in an injury shortened season and proved to be one of the most productive players in the nation.
Final Projection:
Delle Donne has garnered plenty of accolades nationally and within the Colonial Athletic Association. As an upperclassman that trophy case should get even larger. As an upperclassman, Delle Donne should be even more productive. However, her shooting numbers went down during her sophomore season. That is mostly because the opposition learned that if they can stop Delle Donne, they can stop Delaware. But even when everybody tries and stop Delle Donne, she can still put up great numbers.