Rider and Monmouth Men's Soccer Finding Success in Vastly Different Ways
Historically, from colonial times into the middle of 20th century, the state of New Jersey has been divided between East and West. The East consisting of commercial hubs with factories and port cities dotted along the coast and the West was agrarian and rural with dense forest. It was the yin and yang that balanced the state before cars and highways divided the state north and south into suburbs and media markets of Philadelphia and New York.
Nestled in the west between the state capital, Trenton, and prestigious Princeton, sits Rider University with an enrollment of 5,400 in the township of Lawrenceville with a population of 3,887. There, Head Coach Charlie Inverso, the longtime coach of Mercer County Community College and five-time winner of the National Junior College Athletic Association Division I title, has rebuilt a program and has guided the Broncs to their first winning record since 2000.
This season you would find Rider near the top of the Metro Atlantic Athletic Conference and in the top three in total goals scored in the nation. "Even though we've scored a lot of goals, I don't see us as this explosive offensive machine," said Coach Inverso. In Rider's sixteen matches, they have scored 3 or more goals 7 times, and through their last three home matches the Broncs scored a combined 15 goals.
Rider's play is direct and fast. They look to counter immediately, not waiting for support or building play. Coach Inverso describes the attacking principle as "possession with the intent of getting behind a team." This principle has allowed their forwards to prosper, specifically freshman Jose Aguinaga, sophomore Zach Bond, and junior Justin Veltri (combined 12 goals), while still spreading the task of scoring across the field. "What makes us able to score a lot of goals is we got a lot of different guys who can score and you can't key in on one guy," said Coach Inverso.
The balance, distribution of goals, and lack of a focal point or goal scoring threat was due to necessity rather than design. "When I took over we were maybe 203 out of 204 in the RPI. We got rejected a lot in terms of trying to find special players that can score goals. I recognized we weren't going to get them from New Jersey," said Coach Inverso. "So we went the international route, worked really hard to find good players."
That hard work resulted in the recruitment of Rider's top two scorer, German center midfielder Christian Flath and winger Florian Valot of Monaco. Flath, a sophomore, started receiving national attention with 9 goals, 4 assists and the ability to provide sublime service in set pieces. Junior Valot, a product of the AC Monaco youth system, is second for Rider in points with 7 goals and 4 assists, and is a counter balance for Flath as he plays more direct and unafraid to run at defenders. Those defenders in Rider's penultimate regular season match were the one team in the country that could prevent the Broncs' potent attack.
"If you just look at their stats you would say, 'well they probably just sit back and defend.' But that's certainly not the case in the games I saw," said Coach Inverso of inter-state rival, MAAC foe and team with the second best goals against average in the nation prior to their match, Monmouth University.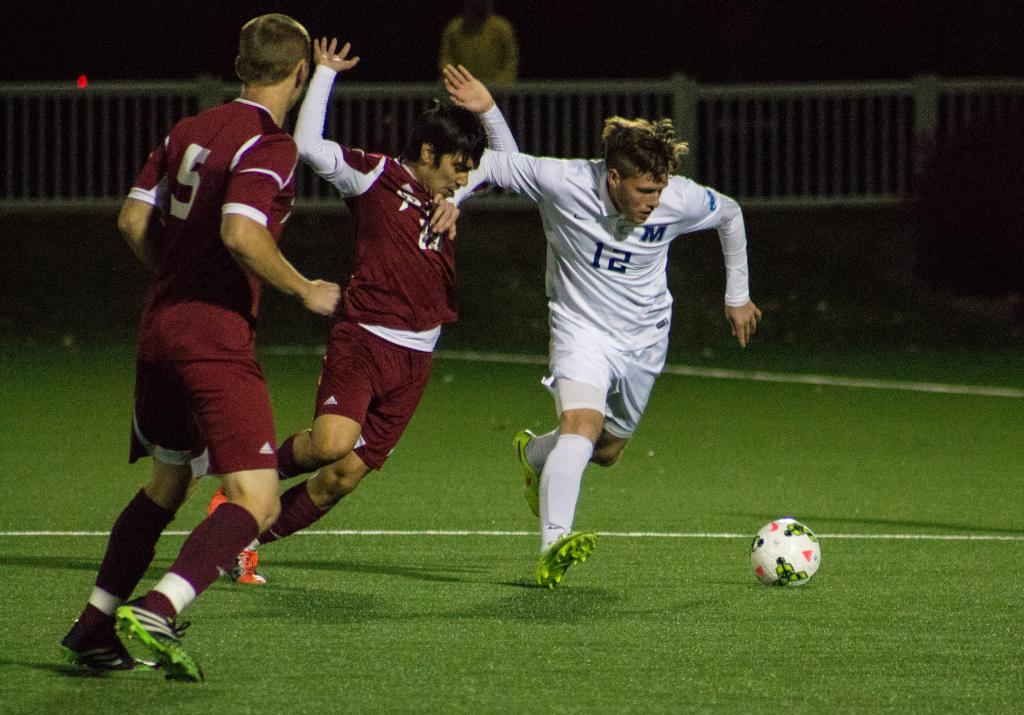 The Wednesday night match played at the University of the Jersey Shore, marked the last time during the regular season that either team will being playing in the state. Both teams have been successful at home and on the road within the state border combining for an 11-3-3 record, which includes results at Rutgers and NJIT. Monmouth Head Coach Robert McCourt recognized the strength of Rider, while acknowledging his team's recent short comings. "Rider's scoring a bunch of goals, so we have to make sure that we're organized and compact and continue to do the stuff that we've been doing pretty well. But the biggest emphasis for me is turning the corner and turning some of these chances that we're creating into goals."
For the early part of the match Rider went at Monmouth, taking it to the Hawks in the first 10 minutes, but failing to convert. Once Monmouth found their rhythm in possession they began playing keep away as they enjoy to do on their Great Lawn. The Hawks prodded and probed in Rider's half, attempting to find a sliver of space. Coach McCourt, conscious of Rider's ability to quickly strike on the counter, barked out orders to his backline to keep shape and remain vigilant. The attention to details along the back has been the key for Monmouth conceding only six goals on the season to that point.
By playing 10-men behind the ball, a college team can not concede goals without conceding possession. McCourt points to, "an attention to detail in terms of our shape and, when we lose the ball, a direct transition. Transition is a key word in soccer these days. A direct transition into good defensive posture."
In the 30th minute Rider took advantage of a turnover near the center circle and displayed how they became the second highest scoring team in the country. From a 20-yard pass inside Monmouth's half, forward Justin Veltri received a pass near the top of the box, held off his defender and laid off a pass to a streaking Christian Flath. The standout sophomore midfielder's first touch failed him as he sailed a sure goal over the bar from about 15 yards out.
Monmouth held form, only by a grace of the miscue. The Great Lawn would continue to wait to see if anyone can end the scoreless streak which at that moment was 325 minutes without a goal. One of the pitfalls of supporting a team with a great defense is when your team struggles due to injuries, in the case of Monmouth, or lack of offensive ability near missing become moments of momentous excitement.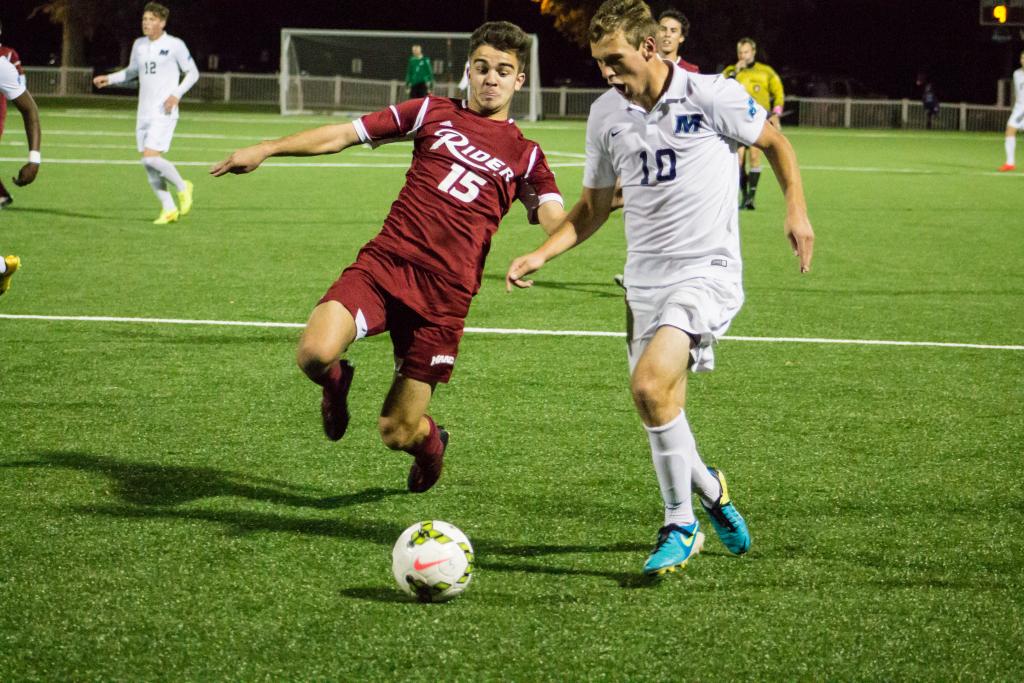 Monmouth Coach McCourt describing how Monmouth's injury situation consequently led the Hawks to become a defensive juggernaut said, "So you're going into the conference down four starters. So it's been difficult just trying to patch it up and have guys playing different positions and I certainly think we've made a little bit more of an emphasis on being organized defensively, but unfortunately when you're defending a lot, we haven't had the luck in the final third going forward."
In the 60th minute of the match, it was Rider who started to make their own luck by pressing the ball higher up field. Until that point, Monmouth's talented senior centerback pairing of Emmanuel "Yaya" Senyah Agyemang and last season's MAAC Defensive Player of the Year Matthew Jeffery held back most counterattack opportunities. With higher pressure came build up and support from the midfield, which led to more chances.
Rider, finding it difficult to get opportunities in Monmouth's box for most of the match, was not able to put any of their four shots on frame over the next 20 minutes. Instead, it was Monmouth's senior forward Dom Sarle who was to end the 378 minutes goalless drought at the Great Lawn, converting off a corner kick. Sarle scored the opening and closing goals for Monmouth home matches this season. And with the whistle blown to end the match and the regular season of the Great Lawn, Monmouth would not concede a goal in 597, minutes dating back to a 2-0 loss to Lehigh on September 1st.
"We played five pretty good games in a row and tonight I just don't think we were very sharp," admits Rider's Head Coach Charles Inverso. The Hawks seem to have a way to frustrate visiting coaches. Rider had their chances, but Monmouth limited the quality opportunities. Rider forced Monmouth's sophomore goalkeeper Eric Klenofsky to make four stops, slightly better than his 3.62 save per game average. This only heightens the strength of Monmouth's capacity to defend as a team and not be over relying on a keeper.
Coach McCourt, at the helm of Monmouth of for 11 years, believes his backline can stand up to any in comparison. Especially with his standout centerback Jeffery, who grew up only 30 minutes from campus, as kind of the leader of that back four. "He's a big kid, he's very good defensively in the air winning head balls. He's also very technical for a center back, so his feet are very comfortable on the ball."
Jeffery is one of many starters for Monmouth that hail for the Garden State. Between McCourt's success of turning the Hawks into a regional power and with campus located less than two miles from the beach, it is a destination location. McCourt, a Kearny native, made challenging for conference titles and top 25 rankings a habit at Monmouth. The Hawks, with only a single loss in MAAC play, is in position to earn another spot in the conference tournament. A win against St. Peter's in the final match of the season will guarantee a space. Rider has already secured an invite and at least one home match.
With two different universities in the same small state posting some of the best statistics and some the best figures in the country, only at different sides of the ledger, demonstrates there's no one right way to earn success. Nevertheless, will either team find the right balance that will lead them to a MAAC championship and a berth into the NCAA Tournament?