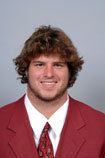 Chris Galippo, Senior, Linebacker, USC
Overview:
Back in 2007 Chris Galippo earned a spot in the regular rotation for USC. However, the 6-2 linebacker suffered a herniated disk in his back and played in just three games. He earned a redshirt for that season and returned to his backup role as a redshirt freshman in 2008. His intelligence and instincts made him a fine middle linebacker and the obvious choice to be the future starter at that position.
Galippo got his chance in 2009. He ranked third on the team in tackles with 70 and added 8.0 tackles-for-loss, two interceptions and even forced two fumbles. After emerging as a leader, big things were expected from Galippo in 2010. Yet, even with all the inexperience in the Trojans linebacker corps, Galippo only tallied 29 tackles.
Final Projection:
Galippo's experience and versatility has given USC multiple options. He can play any linebacker position and that should give him an opportunity to repeat his success of 2009 in 2011. The Trojans have a lot more talent in their linebacker corps, but Galippo needs to separate himself from the younger players and emerge as a leader. He will not be the fastest or strongest linebacker in this draft class, but he will be one of the smarter and more versatile players hoping to be drafted in the first couple of rounds of the 2012 NFL Draft.
See all NFL Draft Profiles and Rankings