Tulane Green Wave
Overall Rank: #42
Conference Rank: #4 American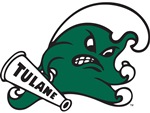 Tulane struggled down the stretch last season, losing six of their last seven regular season games before falling in the first round of the AAC conference championship. But Coach Lisa Stockton's team still made it to the WNIT where they won a couple games before eventually falling at Alabama. The return of senior guard Kolby Morgan should get the Green Wave back to the postseason. She led the team with 19.2 points per game and connected on a team high 79 three-pointers. Morgan is an efficient and effective scorer, but she can also hit the glass effectively and play solid defense.
2016-17 Record: 18-15, 7-9
2016-17 Postseason: WNIT
Coach: Lisa Stockton
Coach Record: 479-242 at Tulane, 542-269 overall
Key Departed Players (starters in bold)
Leslie Vorpahl, Guard, 11.8 ppg
Courtnie Latham, Guard, 7.0 ppg
Shakira Harding, Guard, 3.6 ppg
Key Returning Players (starters in bold)
Kolby Morgan, Senior, Guard, 19.2 ppg
Harlyn Wyatt, Junior, Center, 6.6 ppg
Meredith Schulte, Junior, Guard, 5.3 ppg
Tene Thompson, Junior, Guard, 4.0 ppg
Ksenija Madzarevic, Junior, Center, 2.3 ppg
Caylah Cruickshank, Senior, Guard, 1.9 ppg
Maddison Wells, Sophomore, Forward, 1.8 ppg
Kayla Manuirirangi, Sophomore, Guard, 1.6 ppg
Key New Players
Kaila Anderson Freshman, Guard
Sierra Cheatham, Freshman, Guard
Krystal Freeman, Freshman, Forward
Tatyana Lofton, Junior, Guard, Transfer, Junior College
Projection:
It will be the play of the rest of the team that makes the difference between another trip to the WNIT and the team's return to the NCAA Tournament after a two year absence. Meredith Schulte is back to join Morgan in the starting backcourt. She is an experienced 6-0 guard who can do a little bit of everything, but Tulane may need her to score more this season. Tene Thompson, Caylah Cruickshank and Kayla Manuirriangi all spent some time in the regular rotation last season and will join incoming freshmen Kaila Anderson and Sierra Cheatham and junior college transfer Tatyana Lofton in a deep and talented backcourt. Like last year, the Green Wave will usually run four guards around one big in the paint. That big will again be Harlyn Wyatt, a 6-2 junior center. She is a decent interior scorer and shot blocker and will garner enough attention to open up space on the perimeter for the shooters. With 6-5 junior Ksenija Madzarevic also back, Tulane has plenty of experienced frontcourt depth. As long as the team can create offense without point guard Leslie Vorpahl, this is a team that should compete for a spot in the NCAA Tournament.
Projected Postseason Tournament:
NCAA
By the Numbers:
Scoring Offense: 63.7 (185th in nation, 5th in conference)
Scoring Defense: 62.2 (117, 6)
Field-Goal Percentage: 42.7 (67, 3)
Field-Goal Defense: 38.9 (124, 5)
Three-Point Field Goals Per Game: 5.8 (165, 5)
Three-Point Field-Goal Percentage: 32.8 (124, 3)
Free-Throw Percentage: 70.0 (161, 6)
Rebound Margin: -2.1 (235, 7)
Assists Per Game: 13.7 (143, 4)
Turnovers Per Game: 16.9 (252, 7)