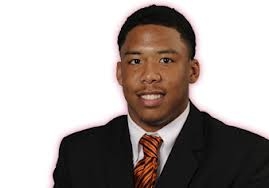 Kyle Fuller, Senior, Cornerback, Virginia Tech
Overview:
Kyle Fuller has played three complete seasons at Virginia Tech. The senior defensive back has yet to miss a game during his time in Blacksburg. And yet, each and every season he seems to get overshadowed by other Hokie corners. Last year, Fuller nabbed two interceptions but teammate Antone Exum hauled in five picks. In 2011, it was Jayron Hosley who led the team in interceptions and notoriety. Fuller's freshman year also happened to be the year Hosley led the entire nation in interceptions. And now, heading into his senior campaign, talk seems to be centered around another Fuller. That being Kyle's younger brother Kendall who is a five-star DB prospect attending Virginia Tech.
Final Projection:
It is hard to gain traction as a prospect when you are continually overshadowed. However, scouts know that respect for a cornerback is often shown by avoiding them at all costs. It remains to be seen whether the numbers will back this up but perhaps Kyle Fuller has never collected the turnover numbers because teams prefer to throw away from him. His quickness, reaction, speed, and instincts sure seem to garner the talk that has been instead given to fellow teammates. On draft day though, NFL scouts will be aware of the man's talent and he should be taken in the early to middle rounds.
See All NFL Draft Profiles and Rankings