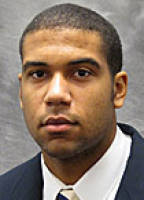 Austin Seferian-Jenkins, Junior, Tight End, Washington
Overview:
Austin Seferian-Jenkins is putting together quite a career from the tight end position. In just two years at Washington, he has already accumulated a senior's worth of stats: 110 catches for 1390 yards and 13 touchdowns. For some level of comparison, last year's top tight end taken in the NFL draft, Tyler Eifert, ended his career with just 30 more catches and actually had fewer touchdown receptions than Seferian-Jenkins. And Zach Ertz, the other big name tight end to venture into the NFL ranks after last season, barely covers Austin's numbers in any category. With one or even two more seasons to play, it is possible that Washington's big pass catcher could finish his career with some historic tight end figures.
Final Projection:
At well over six feet tall and possessing a powerful frame, Austin Seferian-Jenkins has the body to play NFL tight end. Like many current pros, he also has the athleticism and speed to wreak havoc while he does. Following in the mold of Tony Gonzalez, Antonio Gates and Jimmy Graham, Seferian-Jenkins played some college basketball. It's not a requirement for pro success, but it sure seems to help these days. If his junior year is anywhere in line with his previous two seasons, the Washington product may be taken early in the first round of the 2014 draft. A weapon like that out of the tight end position is simply too appealing to pass up.
See All NFL Draft Profiles and Rankings