South Floridian Dribbles into Guinness World Records Acclaim

Bounces Two Basketballs while competing in Fort Lauderdale Marathon for Charity
For just one day the South Florida basketball spotlight shined away from King James and the defending World Champion Miami Heat and beamed brightly on Darren Weissman aka "Doctor Dribble," who bounced his way past the Publix A1A Fort Lauderdale Marathon finish line to break a Guinness World Record.
Doctor Dribble cemented his legacy into the Guinness World Record annals as the fastest dual dribbling marathon runner. He now has a place in the iconic almanac alongside a collection of the world's zaniest record holders, including the renowned tallest man.
The very origin of Doctor Dribble's coveted record is almost as fascinating as the actual milestone itself. It can be traced back to Chino Hills, California, circa 2009, when a 10-year-old boy in a Border's bookstore, chaperoned by his dad, was paging through one of his favorite reads - The Guinness Book of World Records and discovered what he believed to be the coolest thing, a record for a marathon runner dribbling one basketball.
The boy in the bookstore wistfully asked his dad: "Can you break the record?" The father, already an accomplished marathon runner and former high school basketball player, dutifully agreed to pursue the record.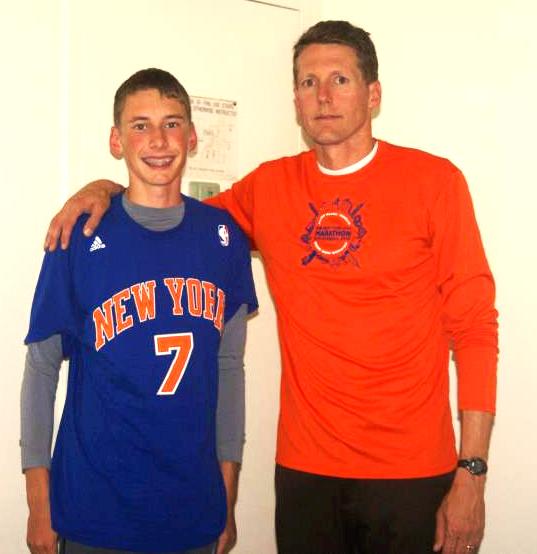 Jerry Knox (right) stood by his son Alex (left), who was the brainchild behind his then triumphant Guinness World Record attempt
Well, the boy in Borders was none other than Alex Knox, the son of Jerry Knox, who ultimately fulfilled his promise that he made to his son - breaking the Guinness basketball dribbling marathon world record. Subsequently, Alex's request set off a chain of events leading up to the upcoming battle for Guinness World Record supremacy between the previous title holder, Knox, and the current owner, Doctor Dribble.
This brings us to Doctor Dribble and his freshly minted Guinness World Record that he captured on February 24th, 2013, with 11 minutes to spare and a time of 4:39. Doctor Dribble's record would not have come into fruition if it wasn't for his workout partner, Natalia Liss. It was she who hatched the idea during one of their tortuous runs. Otherwise, Knox would still be atop the Guinness' leader board.
"Darren and I like to challenge each other," said Liss. "Once I came up with the Guinness basketball dribbling idea, it was a done deal, because when Darren says he is going to do something he does it no matter how impossible it may seem. In Darren's world boundaries simply do not exist."
For Knox, his initial pursuit of the Guinness World Record entailed dribbling only one basketball. He successfully attained this record in 2009, registering a time of 3:48. Regrettably for Knox - there was only a narrow window of opportunity to celebrate - as his record time was shortly surpassed. This occurrence would serve as a harbinger for him in the not too distant future.
Knox, now 43, who is a high school human geography and world history teacher by day, was undaunted after surrendering his title. He persevered and reinvented himself, even created a new Guinness World Record category as the fastest marathon runner on Earth - dribbling not one but two basketballs.
On his first attempt, the resilient Californian came across some bad Karma early on when one of his basketballs suddenly punctured at mile seven during the 2011 Orange County Marathon. Knox had to wait 30 minutes for his wife to bring him another ball - ultimately compromising his overall time. Surprisingly, Knox still found a way to break the record.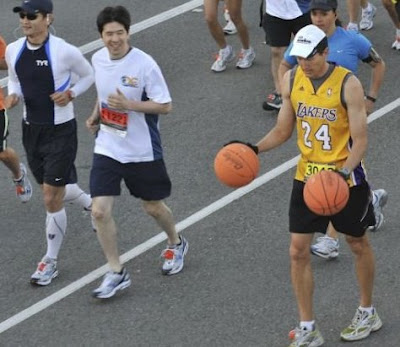 Marathon running onlookers appear in disbelief during Knox quest for the Guinness World Record
After the basketball popping fiasco, Knox was unsatisfied with his performance and decided to try and improve on his time two weeks later at the Pasadena Marathon. There, he proceeded to once again set a new world record - finishing the race in 4:55.
At the time, Knox was quoted as saying: "I wanted to go under five (hours). Then maybe nobody will be crazy enough to try to beat it."
Those words went on to haunt Knox and his fragile record in a big way. What he failed to consider was that somewhere in South Florida resided a 30-something fitness addict who possessed a Type-A personality and the innate belief that he could achieve the unimaginable. This individual was Doctor Dribble.
Remarkably, Knox was unaware that Doctor Dribble was anointed the Guinness World Record crown. Apparently, the news did not reverberate within his circles until a week after his record changed hands. Knox, as expected, was disappointed after hearing the unsettling news, but always the consummate fighter - vowed to reclaim the title.
Coincidentally, minutes after learning about his record's demise, Knox received a phone call from Doctor Dribble. The two shared an amicable conversation and then: Wham! Doctor Dribble fired the opening salvo by inviting Knox to compete for the title. Knox quickly agreed and both sides dug in.
So now that the gauntlet has been officially laid down, Doctor Dribble will be venturing 3,000 miles to defend his record. The showdown will officially take place on June 2nd, 2013, practically in Knox backyard at the San Diego Rock 'n' Roll Marathon.
"I plan on wearing my Miami Heat Lebron James jersey and I wouldn't be surprised if Jerry will have on a Kobe Bryant Los Angeles Lakers jersey," Doctor Dribble surmised. "This reminds me of the old Rocky IV movie, where Rocky traveled to the Soviet Union to fight Drago."
Well, maybe Doctor Dribble's analogy is a tad bit melodramatic, although he will be entering a cauldron infiltrated by Knox' marathon buddies when he touches down in Southern California for the race. His following is already amped and prepared for Doctor Dribble's appearance - thanks to Knox recent Facebook post:
"The guy who broke my world record dribbling two basketballs just challenged me to race him in the San Diego Marathon this June." Knox informed his posse. He then went on to tersely forewarn his newfound arch nemesis: "Bring it!"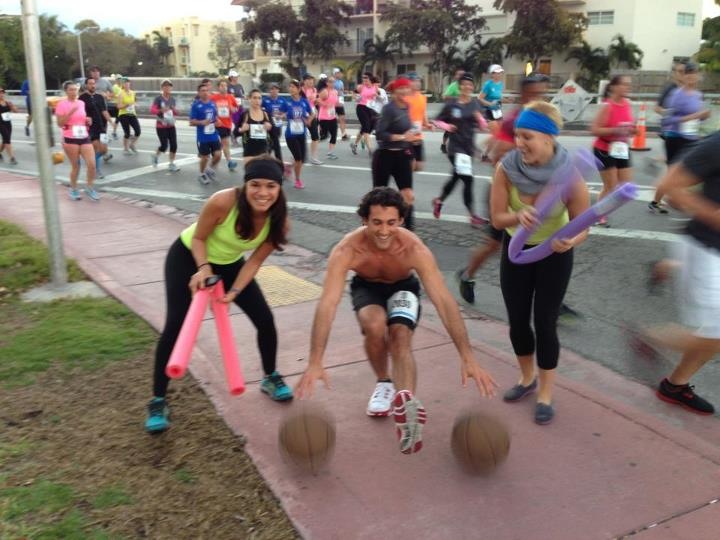 Mas (left) and Doctor Dribble (center) have become a powerful charity fundraising team
At the moment, Doctor Dribble's 15 minutes of fame does not appear to be waning, however, it may not have reached this fevered pitch without the help of his friend and media mogul, Christina Isabel Mas. She first met Doctor Dribble while running in the Miami ING marathon. It was at this very race where he first unofficially shattered the world record. Yet he did not qualify for the good book because it was not videotaped - a requirement for the folks at Guinness.
"When I learned that Darren was running for the OurKids First charity, that really was eye opening for me and I decided to get involved in this cause," said Mas, who has devoted much of her young adult life to philanthropy. "He's doing great things for a phenomenal charity organization. I have seen first-hand what OurKids First is all about and it is incredible."
Perhaps, without Mas impressive media connections, Doctor Dribble may have ran the marathon in relative obscurity. That is, if it is possible to go unnoticed dribbling two basketballs for 26.2 miles along side 5,000 other runners at the Publix A1A Fort Lauderdale Marathon.
"I put together a press release for Darren and I just started contacting everyone I knew in the media and asked them to help him," Mas modestly reflected.
Well, that one press release produced an outpouring of media coverage from the Miami Herald to the Huffington Post as well as local Miami television news stations and the leading sports network: ESPN.com. Outside South Florida, a host of other television stations nationally and globally for that matter covered the story. It even aired in El Salvador and across the Atlantic, in Italy.
The Doctor Dribble buzz does not appear to have a shelf life. He will be featured in the July edition of Runners World and after months have elapsed since breaking the record, Doctor Dribble is still making headlines. Just recently, one of his flashy marathon dribbling displays was photographed and plastered on the front page of the Miami Herald's Sunday newspaper.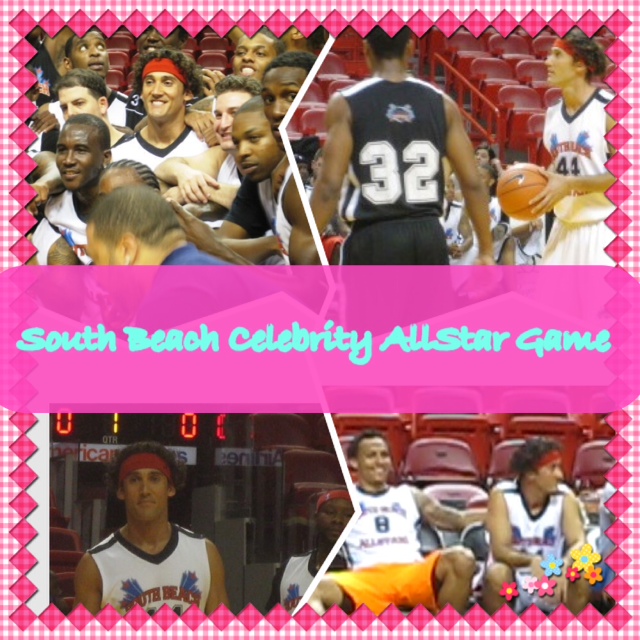 Doctor Dribble was one of the headliners featured at the "Celebrity Court of Dreams" basketball game
An appearance at a celebrity basketball event also awaited Doctor Dribble. He joined a list of star studded guests on the American Airlines Arena basketball floor for "The 2nd Annual All-Star Celebrity Court of Dreams Game," hosted by Ocho Cinco and presented by Baltimore Ravens Super Bowl Champion Bryant Mckinnie.
For an encore, Doctor Dribble has just won the UNIQUE ME Magazine "Man with Heart" contest for his work with OurKids First. UNIQUE ME is right in Doctor Dribble's wheel-house as it is a magazine for children with special needs. As promised, Doctor Dribble donated 100% of the cash prize to the OurKids First charity. This latest accolade landed him an appearance on Channel 10 News.
Despite all the pomp and circumstance surrounding Doctor Dribble's world record, the noble premise behind his punishing yet rewarding 26.2 mile journey was to raise awareness and funds for the OurKids First charity organization.
"OurKids First core mission is to provide care to abused, abandoned and neglected children," said Doctor Dribble. "I hope this media attention motivates people to learn more about their cause and to start to get involved. I feel fortunate to be affiliated with such an amazing charitable organization."
Now, as to how Doctor Dribble found OurKids First, one could say he stumbled into the non-profit group while chatting with his race friend, Susan Linning. After informing her that he was interested in donating to a charity, she recommended one of her clients, the OurKids First foundation.
Linning was convinced that OurKids First would be the perfect fit for Doctor Dribble since he brought up an at risk teen from the time the youth was 14-years-old. Once Linning described the OurKids First' mission to Doctor Dribble, it hit home with him right away and he was immediately on board.
"Darren has really shed new light on the OurKids First foundation with his high energy motivational talks," said Linning, owner of social media firm, Echo Marketing. "When he speaks to the kids in the system, he really connects with them on a visceral level and they relate to him equally."
The OurKids First mission resonates deeply with Doctor Dribble, particularly since he helped raise Jonathan "Sponge" Holton, a rising basketball player, who he coached on his AAU basketball team. Sponge, by definition, wasn't a foster child, but he definitely required a sanctuary from his overcrowded household where 11 people quartered in a one-bedroom residence.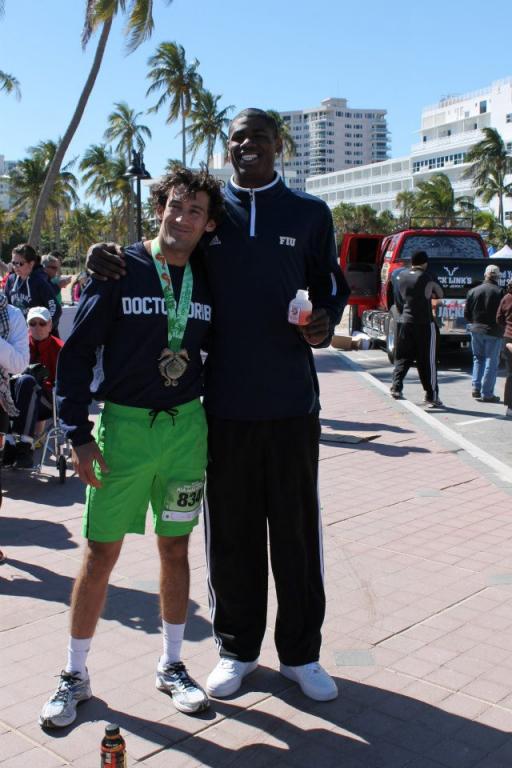 "The Dynamic Duo" Doctor Dribble and Sponge celebrate after the race
Sponge ultimately moved in with Doctor Dribble (then known as Darren Weissman) and for five years - under the tutelage of Weissman - thrived in this living arrangement. Upon Sponge's high school graduation he went on to college and developed into a stand-out Junior College basketball player for Palm Beach State Community College.
This past season, Sponge delivered Kevin Durrant-like numbers for Palm Beach State College, leading the nation in rebounding, shooting 40 percent from beyond the arc and singlehandedly carrying his team to a No. 2 national ranking.
After weighing out all his options as to where he was taking his Division 1 college basketball talents in the fall, the inside-outside power forward chose Big 12 powerhouse West Virginia -leaving a trail of perennial programs including Ole Miss, Memphis, and the University of Maryland wondering what could have been.
The kinship between Weissman and Sponge first blossomed in 2008 when Weissman began treating the then 6'-1" lanky young teen to meals and ferrying him home from AAU basketball practice. Astonishingly, after only knowing Weissman for six months Sponge felt comfortable enough to ask him if he could move in with him. Weissman responded with a resounding yes and welcomed him into his home with open arms.
"I knew that by having Sponge live with me it would dramatically change my life and I would have to make some serious sacrifices," Weissman remembers. "But I also understood his health and welfare were at stake had I not acted by opening the door to him."
Weissman was well aware that due to Sponge's cramped living space – the basketball prospect with a ton of untapped potential - was at a crossroad. He was literally squeezed from his own home and drawn out at night onto the mean streets of Coconut Grove.
So in Weismann's view, he knew it was not a question of if, but a matter of when the two would become roommates. Weissman also realized that it was a great opportunity for him to positively shape someone's life that not only wanted help, but had the courage to ask for it.
So for the next five-years, Sponge and Weissman, unknowingly, recreated their very own version of the blockbuster motion-picture, The Blindside, with one exception. Rather than reside in a bucolic and sprawling residential setting, like "Big Mike Tuohy" in The Blindside; Sponge squatted in the confines of Weissman's cozy, one-bedroom, high-rise, condo - where a living room couch served as his bed - a bit confining for a 6'-9" frame. It even reached the point where Sponge's family members starting calling Weissman "Blindside," and still do today.
And during Doctor Dribble's Guinness record attempt, Sponge was emotionally vested in the outcome and of course eagerly awaiting his mentor at the finish line.
"It was great to switch roles and watch Darren doing his thing running and dribbling in the marathon," said Sponge. "All these years he was always there for me watching my basketball games. I was definitely proud of him when he broke the record."
And by no means is Doctor Dribble a one trick pony or circus show. Besides setting world records, he is recognized for engaging in punishing workouts that involve kettle bell, gravity suspension, kick-boxing, and extreme cardiovascular routines. He didn't get his chiseled physique sipping umbrella drinks by the pool.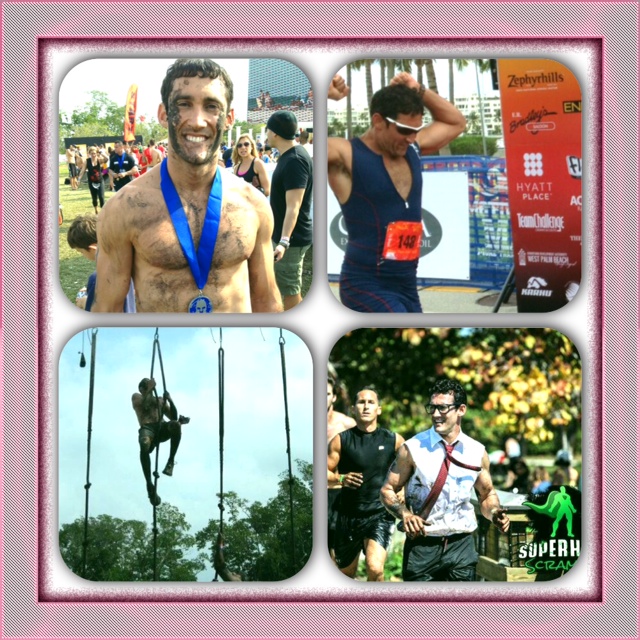 Doctor Dribble is an avid participant in a number of extreme obstacle course races
By avocation, Doctor Dribble juggles three professions as a certified Cardio Lab trainer at Newton's Method, a Gulliver Academy middle-school basketball coach and a hoops trainer for youth and professional athletes.
Doctor Dribble has worked with an impressive cast of past and present basketball stars including: University of Miami Hurricane great Jack McClinton, Brooklyn Net center Andray Blatche, former NBA All-Star Penny Hardaway and one-time Miami Heat point guard Carlos Arroyo, who is now playing professionally in Turkey.
During Doctor Dribble's spare time it's unlikely to find him on the golf course like many practicing physicians. He prefers to get down and dirty by participating in grueling Ironman Triathlons, marathons, 50K ultras as well as hardcore obstacle course competitions, such as the Super Spartan, Superhero Scramble, and Tough Mudder races.
Many of Doctor Dribble's basketball clients have enjoyed varying degrees of success at the collegiate basketball level - going on to star at prominent Division 1 NCAA basketball Schools including West Virginia University, University of Michigan, University of Rhode Island, Central Michigan and the University of Pennsylvania. At U of Penn, one of Doctor Dribble's former clients, Alyssa Baron, led the Ivy League Women's College Basketball Conference in scoring for two consecutive seasons.
While Doctor Dribble trains his students in all aspects of the game, perhaps, it is his ability to instruct them on one of basketball's lost arts - ball-handling fundamentals - that separates him from other coaches. His adroit basketball dribbling skills have even captured the attention of NBA Hall-of-Famer Isiah Thomas.
The two crossed paths when Thomas, then head coach at the Florida International University (FIU) men's basketball team, was on a recruiting visit to see Sponge. Thomas was not surprised by Sponge's dominating workout performance, but he was not expecting to see Doctor Dribble break out into an acrobatic ball-handling rendition while training his prized protégé.
According to Doctor Dribble, Thomas remarked flatteringly about his dribbling skills, saying he had never seen anyone handle the ball and instruct drills with two basketballs that well. Thomas also admitted that he probably couldn't duplicate many of Doctor Dribble's ball handling stunts - pretty strong words from one of the greatest point guards of all-time.
Now Doctor Dribble didn't acquire his self proclaimed nickname out of thin air. He earned his namesake through years of around the clock dribbling in every conceivable location and manner, including on his way to the store, walking up a flight of stairs, and most spellbinding of all – dribbling while lying down flat on his back. It is this last trick that Doctor Dribble used expediently to allow him to take water breaks without stopping his dribble during his successful Guinness record trek.
If you define Doctor Dribble as someone who thinks outside the box that is a serious understatement. He is so far outside that he is not even in the same zip code. This can be best illustrated by the lengths he went to prepare for the Guinness World Record.
In an effort to simulate a jam packed marathon race with a limited area to negotiate a clear path, Doctor Dribble frequently bounced two basketballs from his Kendall condominium to his job in South Miami by way of US 1, one of Florida's busiest and narrowest roadways. Navigating on US 1 is difficult enough when operating a vehicle (Miami has the ninth worst drivers in the nation according to Allstate). But as a pedestrian, dribbling two basketballs on the pothole laden uneven surfaced US 1 sidewalk - lodged several feet away from some of the most aggressive drivers in the country - is by no means a walk in the park.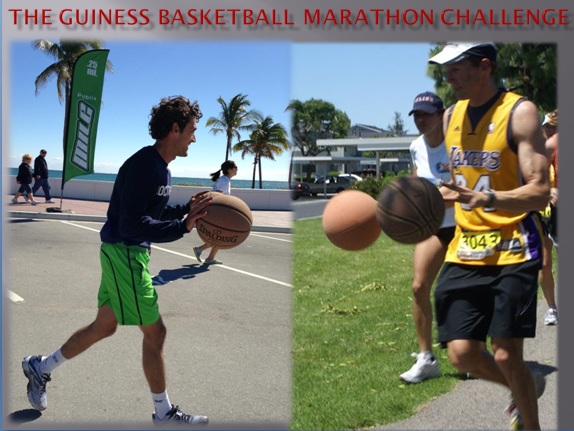 It is East versus West when Doctor Dribble and Jerry Knox clash at the San Diego Rock 'n' Roll Marathon June 2nd 2013 to compete for the Guinness World Record
Despite Doctor Dribble and Knox differences - they both cut their teeth from the same place - riding the pine on their high school basketball team. Their similar experiences, as members of their high school basketball teams, may not have led them to attain their aspiring dreams, which involved playing basketball on the collegiate level, but it did provide them with the requisite ball-handling skill-set to each break the basketball dribbling Guinness World Record.
As for their marathon racing abilities, both chose a different path to become formidable long distance runners. Knox trained in a more deliberate and traditional fashion, while Doctor Dribble opted for an accelerated approach.

"I have been running marathons for six years and I consider myself a good runner," revealed Knox. As far as how he rates himself, he jokes: "I am fast compared to slow people and slow compared to fast people."
Doctor Dribble ran his very first marathon late in 2012 with only 10 days of training. Amazingly, he ended up finishing it in less than four hours, which is unheard of for beginners like him. He only has one other race under his proverbial belt – the marathon where he broke the Guinness World Record.
Traditionally, marathons are reserved strictly for actual runners, but apparently race officials have become more and more lenient when it comes to basketball dribbling. This begs the question: What is it like racing alongside Doctor Dribble and his two basketballs?
"When I was about a mile into the Publix A1A marathon, suddenly there was a rhythmic pounding that sounded like it was getting closer and closer and I couldn't fully understand what I was hearing," said Amy Melissa Guimond, a marathon entrant and author of the blog, The Point One will Getcha!. "And then I realized that it was just a guy (Doctor Dribble) running the marathon while dribbling two basketballs."
Guimond added. "He passed me, and I distinctly remember thinking that this guy is hardcore. Here I am struggling to just put one foot in front of the other, and here is this guy who is not only running a marathon but also dribbling with not one but two basketballs."
When Doctor Dribble and Knox compete at the San Diego Rock 'n' Roll Marathon, it will not be the first time the two will have met one another. They were acquainted after Doctor Dribble jetted Knox into Miami for a promotional video. And now Doctor Dribble is considering ratcheting up his PR machine even further by inviting a Guinness official to attend the San Diego Rock 'n' Roll Marathon.
On a serious note, in response to the Boston Marathon Bombing, Doctor Dribble's celebrated Guinness record suddenly takes a back seat to a larger issue – standing up and actually running against terrorism. He has pledged to enter next year's Boston Marathon to send the terrorists a powerful message.

"I want to qualify for the Boston Marathon so much more just to take a stand against terrorism," Doctor Dribble defiantly proclaimed. "My thoughts and prayers go out to everyone"
As far as the race is concerned, Knox feels confident that he can take back his title, although if Doctor Dribble plays the long game then sooner or later "Father Time" will kick in and make it possible for the South Floridian to maintain the top spot.
So what's Doctor Dribble's next move after the San Diego Rock 'n' Roll Marathon challenge? When pressed for an answer, he slyly evaded the question. According to this reliable source, it involves not two but three basketballs.