Temple Owls
Overall Rank: #37
Conference Rank: #3 American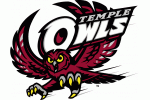 This Temple team will look a lot different than the one that finished last season with a 24-8 record and a trip to the NCAA Tournament. Four starters are gone, including the potent backcourt duo of Feyonda Fitzgerald and Donnaizha Fountain. Despite those key departures, the Owls still have a lot of talent returning to go along with seven newcomers, including Mykia Jones, a transfer from Georgetown, and Lena Niang, a transfer from North Carolina State. The five player recruiting class is pretty good too, highlighted by point guard Desiree Oliver and forward Breanna Perry.
2016-17 Record: 24-8, 13-3
2016-17 Postseason: NCAA
Coach: Tonya Cardoza
Coach Record: 188-109 at Temple, 188-109 overall
Key Departed Players (starters in bold)
Feyonda Fitzgerald, Guard, 17.3 ppg
Donnaizha Fountain, Guard, 14.1 ppg
Ruth Sherrill, Forward, 4.4 ppg
Safiya Martin, Center, 2.0 ppg
Monasia Bolduc, Forward, 1.4 ppg
Key Returning Players (starters in bold)
Alliya Butts, Senior, Guard, 15.5 ppg
Tanaya Atkinson, Senior, Center, 13.0 ppg
Khadijah Berger, Senior, Guard, 4.2 ppg
Shantay Taylor, Sophomore, Forward, 1.9 ppg
Shannen Atkinson, Sophomore, Center, 0.7 ppg
Deja Reynolds, Junior, Guard, 0.2 ppg
Key New Players
Mia Davis, Freshman, Forward
Mykia Jones, Senior, Guard, Grad Transfer, Georgetown
Emani Mayo, Freshman, Guard
Nicolette Mayo, Freshman, Guard
Lena Niang, Junior, Forward, Transfer, NC State, eligible
Desiree Oliver, Freshman, Guard
Breanna Perry, Freshman, Forward
Tajae Stevenson, Freshman, Forward
Projection:
Alliya Butts may be the only full-time starter back, but Tanaya Atkinson and Khadijah Berger have starting experience too. Butts averaged 15.5 points per game last season and connected on a team high 88 three-pointers. She will take the big shots for the Owls this year. Berger, a 5-10 senior, only averaged 4.2 points per game, but she is a good outside shooter. Atkinson, a 6-4 center, was a superb scorer off the bench last season and averaged 13.0 points and a team high 8.7 rebounds. She is a force in the paint on both ends of the floor and will only get better with experience. Whether starting or not as a sophomore, Atkinson will be on the floor as much as possible. With fellow sophomore Shantay Taylor also gaining some valuable experience last year, the Temple frontcourt may now be able to match the talent of the backcourt. And that should strike fear into most of the AAC.
Projected Postseason Tournament:
NCAA
By the Numbers:
Scoring Offense: 69.9 (80th in nation, 3rd in conference)
Scoring Defense: 60.7 (80, 4)
Field-Goal Percentage: 39.5 (188, 7)
Field-Goal Defense: 38.6 (105, 3)
Three-Point Field Goals Per Game: 6.8 (80, 2)
Three-Point Field-Goal Percentage: 32.6 (130, 4)
Free-Throw Percentage: 71.3 (117, 5)
Rebound Margin: 3.1 (92, 5)
Assists Per Game: 14.4 (98, 2)
Turnovers Per Game: 13.3 (35, 3)
Madness 2017 Women's Basketball Recruit Rankings:
#69 Desiree Oliver

#145 Breanna Perry